Lok Sabha elections 2019- 'Elections have become very localised and transactional': Praveen Chakravarty
We have something called the Nyay awareness index, which is measured daily. We can identify which pockets, which geographies will be the most likely Nyay beneficiaries.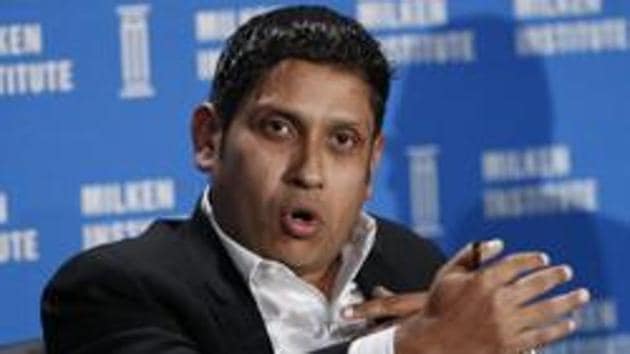 Updated on Apr 28, 2019 07:27 AM IST
New Delhi |
Roshan Kishore and Abhishek Jha
Praveen Chakravarty, chairperson of the Congress's data analytics department, believes that the fear of retribution is preventing anti-BJP voters in the Hindi belt from voicing their true opinion to pollsters. This has only compounded the problems for polling agencies which have got an overwhelming share of exit poll predictions since the 2014 Lok Sabha. Here are edited excerpts from an interview by Roshan Kishore and Abhishek Jha with Chakravarty for Hindustan Times.
Q. All pre-poll surveys have suggested that the National Democratic Alliance (NDA) is coming back. What do you think?
It is very brave for anyone to say that. 300 odd seats in 22 states have voted so far. Two things are well established now. There is no observable wave like there was in 2014. This is not one national election or 29 state elections, but 543 different elections, where every seat is voting almost independently.
Predicting seats in such a situation requires surveying every seat with a sufficiently sized well-stratified sample. No survey agency has the resources or the know how to do this. I am not for a moment saying there is deliberate misrepresentation. It is just that the traditional method of talking to some 10,000 people to calculate vote shares and then put it through some black box model vote share to seat share does not work at all.
There is empirical evidence to support this. An analysis of all exit polls, which should be more accurate than pre-poll suerveys, by four frequent agencies — Chanakya, Axis, C Voter and CSDS — since the 2014 general elections shows that 85% of them were wrong.
Q. Were they biased towards a particular party?
No, there is no pattern. They are wrong across parties, states and agencies.
Q. In an earlier interview before the Rajasthan and Madhya Pradesh elections, you said your surveys showed that anti-incumbency in Madhya Pradesh was two times more than in Rajasthan. Yet, both were close elections.
There is a big distance between measuring anger and its translation into seats. You have to remember that the purpose of our surveys is not about news values. We are not doing it out of curiosity. It is about decisions we make. When I measure anger, it is to know where I should focus my campaign more. Our surveys are less interested in predicting seat numbers. Our goals and objectives are very different from that of pollsters.
Q. Are you saying that predicting elections has become more difficult in the post-2014 phase? Are multiphase elections more likely to be read wrong?
If your methodology is robust enough, phases do not matter. But there is something unique about these elections. We have what is famously referred to as the silent voter phenomenon or preference falsification. A large percentage of voters, primarily in the Hindi belt, are just afraid to reveal their true voting intent, especially if they are not in line with the ruling establishment. What I am saying is if you are a non-BJP supporter, you are much less likely to come out and reveal your preference. The reverse holds for a BJP supporter. Pollsters have an adverse selection problem because of it.
Q. The Congress has been able to defeat the BJP in Madhya Pradesh, Rajasthan and Chhattisgarh. Even in Gujarat, the Congress improved its performance. This should have increased the BJP's vulnerability and reduced the perceived intimidation among the voters.
This preference falsification phenomenon is not present in states such as Karnataka and Tamil Nadu. It is an extremely Hindi belt phenomenon. It is also higher in regions where the BJP has won at all levels such as MLA, MP, corporator and minister. I have tested this on the ground.
I do not think it has got to do with who is winning or not winning. The same voter was very happy to say that he was not voting for the Congress in 2014, even though it was the ruling party. You may be from the ruling party posing as a pollster, and I tell you something then that impacts me materially. They fear that there is an impact to their opinion.
Q. So you are saying fear of retribution has contaminated responses?
Yes, absolutely. It has come from personal experience for a lot of them in their villages and communities.
Q. Why do you think the 2019 elections have come down to a seat-by-seat contest this time?
Traditionally, a ruling party goes to fight polls on what it has done. It is for the first time that we find that the ruling party is talking about something that has nothing to do with what it has done in the five years, but apparently some idea, notion of what is patriotism, and nationalism, which is clearly not resonating. That has just removed what is a talking point for a voter when it comes to decision on voting. And then the election just starts to become very localised, very transactional. I do believe that elections have become very transactional, and I do not mean this in a negative sense. They are interested in what will they gain in the next two-three years. Everyone's got different views, different needs. That is why it has become very, very localised. I actually do think this is going to be the trend going forward.
Q. Is Nyay [the Congress' poll promise of minimum income guarantee] generating such a transactional traction for the Congress? There are reports of discontent due to people in Madhya Pradesh and Rajasthan not gaining from farm loan waivers.
We have something called the Nyay awareness index, which is measured daily. We can identify which pockets, which geographies will be the most likely Nyay beneficiaries. So we go measure how many people there know about Nyay, have heard of Nyay. You will be actually very, very surprised. Awareness about Nyay has increased and when people know about it, it does become an election issue to talk about. It is very clear for me from my polls that Nyay is the central talking point in states from third phase onwards.
Your question about farm loan waiver, I think, is a logistical operational issue. In fact, one of the campaign promises of Nyay, at least in Rajasthan, Madhya Pradesh and Chhattisgarh, is that there was a loan waiver promise and it was delivered. Similarly, Nyay will be delivered.
Q. You said in an interview that the Congress will triple its 2014 tally. This is roughly close to the Congress's 2004 tally.
That remark — Congress will at least triple and BJP will at least half from its 2014 tally — was meant as a trend, not an exact number. What I am trying to point out is momentum. After the first three phases, it is clear that the momentum is against the ruling party, and in favour of a change. Where will it actually end up in terms of seats is difficult to say. I see no reason why the momentum cannot continue in states which have a dual contest between the Congress and the BJP.
Q. One big change in Indian politics is the advent of social media. It allows everyone to push their narrative across class and caste. Has it changed the political game? Will the BJP's nationalism narrative weaken the momentum you are talking about?
Today, almost every voter has a phone and you can reach that voter directly. What you choose to communicate through this pipe is very, very important. My surveys tell me that tangible issues matter much more than some intangible ideas. I choose to send them messages about Nyay, not some fake photoshopped image.
Close Story
Personalise your news feed. Follow trending topics