Medha Patkar, 36 others start Jal Satyagraha in Narmada ahead of PM dedicating SSP to nation
Published on Sep 16, 2017 08:45 PM IST
As the Nramada continues to rise, the Narmada Bachao Andolan has launched another jal satyagrah to press for complete rehabilitation of villagers whose homes and land would be submerged.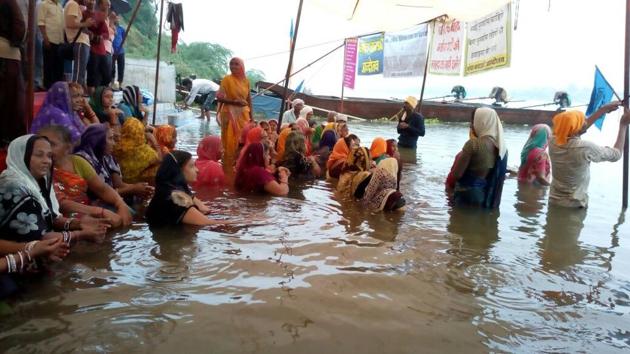 Ahead of Sunday's inauguration of Sardar Sarovar Dam project (SSP) in Gujarat by Prime Minister Narendra Modi on his birthday, Narmada Bachao Andolan leader Medha Patkar and 36 dam affected people have launched a jal satyagraha in the rising waters of Narmada at Chota Barda Ghat in Barwani district of Madhya Pradesh.
Patkar and her supporters started jal satyagraha on Friday evening in Chota Barda Ghat,about 350 km southwest of Bhopal. According to NBA activists, the water level then was around knee level. By Saturday afternoon, the water level rose to waist level of the protesters.
The danger mark at Rajghat in Barwani is 123.2 metres. Over the last fortnight, the water level in Narmada rose from 123.6 metres to 129 metres. NBA leader Rahul Yadav said due to surge in Narmada waters, around 30 villages have been inundated.
NBA leader Rehmat Ali said that 37 people including Patkar stood in the river through the night to protest against the inauguration of the SSP gates on Sunday by the Prime Minister while water is submerging the villages.
"We are protesting against the inauguration and the celebrations when the complete and just rehabilitation is yet to happen," he said.
Ali said that water has inundated the farms of villagers in nearly 30 villages and submerged some houses at Nisarpur and Chikhalda in Dhar districts. "For us, this inauguration event is 'Jashn-e-maut' (celebration of death). While thousands of families here are on the verge of drowning in 214 km stretch of Narmada, there will be celebrations in Gujarat where PM will inaugurate the newly constructed SSP gates. Our demand is that the water level in SSP should not be increased beyond 121 metres until the rehabilitation process is complete," he said.
The closure of the SSP gates in June, and increasing the height of the SSP dam up to 138 metres from the earlier 121.92 metres paved way for retention of more quantum of water in the 214 km upstream of Narmada. This upstream stretch is flanked by four districts in MP that include Barwani, Dhar Khargone and Alirajpur. Of these Dhar and Barwani districts will be more affected by the rising waters. At full reservoir level, when the Narmada water will rise up to 138 metres, 177 villages will be partially submerged in Narmada valley, including 65 villages in Barwani, 77 villages in Dhar, 26 villages in Alirajpur and 10 villages in Khargone.
With the water level continuing to rise, the Madhya Pradesh government has put officials of the district administrations, police and National Disaster Response Force (NDRF) on alert in Dhar and Barwani.