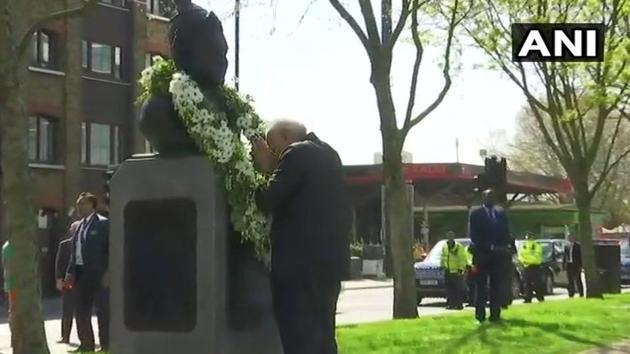 Modi honours Lingayat philosopher statue in London ahead of Karnataka polls
Indian-origin organiser of event say there is no politics in Prime Minister's action.
UPDATED ON APR 18, 2018 09:25 PM IST
Prime Minister Narendra Modi on Wednesday paid tributes at the statue of 12th century Lingayat philosopher Basaweshwara in London, but the lead organiser of the event insisted it had no connection with elections in Karnataka on May 12.
The statue, which Modi had inaugurated during his November 2015 visit, is on the banks of the Thames in the London borough of Lambeth. It was installed by the Basaweshwara Foundation, chaired by Neeraj Patil, a doctor in the National Health Service of UK.
"We are pleased to see the Prime Minister paying tributes to the pioneer of the world's largest democracy (Basaveshwara) in front of the mother of all Parliament (Westminister)," said Patil, a former mayor of Lambeth.
However, he insisted that "this has nothing to do with the (assembly) elections in Karnataka".
Patil, who hails from Karnataka, was the Labour candidate in the London constituency of Putney during the 2017 general election, but lost by a narrow margin to the Conservative candidate, Justine Greening.
The Siddaramaiah government in Karnataka in March decided to recommend religious minority status for the Lingayats, who have historically been considered part of the Hindu fold. His decision was seen as a strategic move ahead of elections in the state.
The Lingayats traces their origins to Basavanna, who was born a Brahmin but rejected the caste and ritual-based Hindu tradition.
Close