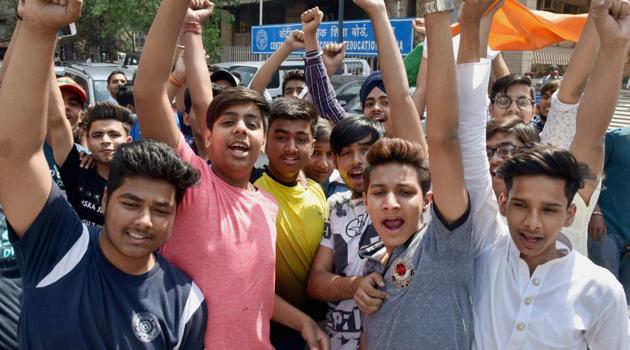 PM Modi must speak up on CBSE paper leak issue: Congress
Congress leader Pawan Khera said lack of clarity and contradictory statements by police and leaders are adding to the woes of students and parents.
UPDATED ON APR 01, 2018 07:49 PM IST
The Congress on Sunday urged Prime Minister Narendra Modi to speak out on the CBSE paper leak issue and provide a solution to students affected by it.
Congress leader Pawan Khera said there is still no clarity in the paper leak case and this has led to chaos. Questioning the silence of senior BJP leaders over the issue, he said Modi should answer the questions being raised.
"It is unfortunate that the youth of this country are turning (into) cynics. It's a serious matter. Arun Jaitley is quiet, so is Ravi Shankar Prasad... and Smriti Irani is glum. So let Modi ji answer and provide a solution for the youth," he said.
Alleging that the government is "involved in full-time politics and part-time governance", Khera accused it of keeping parents and students in the dark.
"Today, parents and students don't know what the government wants. (Prakash) Javadekar ji says that other than those in Delhi and NCR, no other child has to appear for a retest," he told reporters in New Delhi. But the Jharkhand police, he added, had said the leak affected students across India.
"Why is there no clarity? Don't they understand that they are playing with the future of our youth?" he asked.
The Congress leader also referred to the arrest of Satish Pandey, reportedly an ABVP leader, who runs a coaching institute in Jharkhand.
"He is linked to the Sangh. Why did he have the paper?" he asked. "There is an involvement of the government or the BJP leadership. We demand an enquiry which will reveals the roots."
Earlier, the HRD ministry had said a preliminary enquiry found the CBSE paper leak was restricted to Delhi, NCR and Haryana, and if required, retests would be held for the Class 10 mathematics paper in these regions in July. The retest for the Class 12 economics paper will be held across India on April 25, it said.
Khera also wondered if something that was leaked through social media platforms such as WhatsApp could be restricted to the Delhi-NCR region.
"Javadekar ji, you come from a party where most leaders and supporters have gained education from WhatsApp university. You don't understand it's scientifically impossible to restrict WhatsApp," he said.
Khera said the recent lathicharge on a group of young protestors demonstrating against an alleged leak in a Staff Selection Commission (SSC) paper was "criminal" of the government. The government should have had a discussion with the protestors, he said.
The government should agree to a Supreme Court-monitored CBI enquiry into the SSC leak case, he added.
Close