Modi pays homage to Kalpana Chawla, meets chiefs of US think-tanks
Updated on Jun 07, 2016 10:33 AM IST
Prime Minister Narendra Modi on Tuesday laid a wreath at the Tomb of Unknown Soldiers and paid homage to Indian-American astronaut late Kalpana Chawla at Arlington National Cemetery in Washington.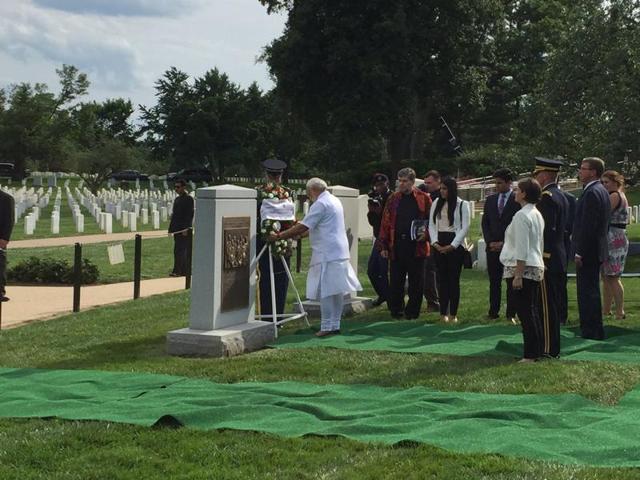 Prime Minister Narendra Modi laid a wreath at the Tomb of Unknown Soldiers on Tuesday and paid homage to Indian-American astronaut late Kalpana Chawla at Arlington National Cemetery in Washington.
"Honouring sacrifice, saluting valour. Formal engagements begin with a solemn ceremony. In homage to heroism and indomitable courage," external affairs ministry spokesperson Vikas Swarup said a series of tweets.
Modi also briefly interacted with the husband and family members of Chawla, senior officials of NASA, Indian-American astronaut Sunita Williams and her father at Space Shuttle Columbia Memorial.
US defense secretary Ashton Carter accompanied the Prime Minister. Indian ambassador to the US Arun K Singh, foreign secretary S Jaishankar, US ambassador to India Richard Verma and assistant secretary of state for South and Central Asia Nisha Desai Biswal were also present on the occasion.
"All of us are very honoured that he took time to come and acknowledge the shuttle catastrophe and the deep cooperation that we have with India in the space world," Williams told PTI after her brief interaction with Modi.
In a gesture to solidify US-India ties, the former returned over 200 cultural artefacts estimated at $100 million (about Rs 660 crore) at a ceremony attended by the Prime Minister.
"For some, these artefacts may be measured in monetary terms but for us this is beyond that. It's a part of our culture and heritage," Modi said at the ceremony held at the Blair House.
Items returned included religious statues, bronzes and terra cotta pieces, some dating back 2,000 years, looted from some of India's most treasured religious sites. Among the pieces returned is a statue of Saint Manikkavichavakar, a Hindu mystic and poet from the Chola period (circa 850 to 1250 AD) stolen from the Sivan Temple in Chennai, which is valued at $1.5 million (about Rs 10 crore).
The artefacts that speak to India's astounding history and beautiful culture are beginning their journey home, US attorney general Loretta E Lynch said. "It is my hope — and the hope of the American people — that this repatriation will serve as a sign of our great respect for India's culture; our deep admiration for its people; and our sincere appreciation for the ties between our nations."
Later in the day, Modi interacted with the heads of US think-tanks.
"The aim of the interaction was to understand from them how they see the global trends in the coming years, the challenges and what the US and India could do together," ambassador to the US Arun K Singh said.
The think-tanks were from Brookings, Council on Foreign Relations, Centre for American Progress, the Atlantic Council, Houston Institute, Central for National Interest, Global Energy Capital, Carnegie Endowment, the Asia Group, Pew Research Centre, the US Institute of Peace and the Foundation for Defence of Democracies.
"So, this is sort of think tanks representing whole spectrum of opinion here," said Singh. "It was in that framework that different current global issues were in a medium and longer term perspective, and we looked at opportunities and ways for us to be able to work together."
On Day 2, Prime Minister Modi will meet Obama, followed by a lunch at the White House. Later in the day, he will meet business leaders in the US and address the US-India Business Council. Modi will address a joint meeting of the US Congress on the final day of his three-day visit, before heading to Mexico City.
Read: India and US should not miss this chance to set a global example
Personalise your news feed. Follow trending topics