Nagaland's Raja Mircha exported to Europe for first time
Jul 29, 2021 11:06 AM IST
Raja Mircha got Geographical Indication certification in 2008. It constantly figures in the top five on the list of the world's hottest chilies based on Scoville Heat Units and is known for its distinct aroma and flavour
Over 250 kilograms of Raja Mircha, which is also known as Naga King Chilli, was exported to London from Nagaland on Wednesday. It is the first such export from Nagaland and comes amid the Covid-19 pandemic and a drought-like situation in the state.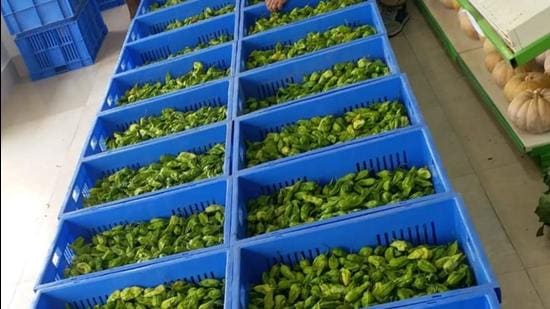 Raja Mircha got Geographical Indication certification in 2008. It constantly figures in the top five on the list of the world's hottest chilies based on Scoville Heat Units and is known for its distinct aroma and flavour.
Also Read | Inter-state border firing: Assam Police lodge case, probe Mizoram MP's role
"Today's flag-off event on the export of the first consignment of Raja Mircha to the European market is a historic day for the farming community of the state. This event will increase awareness, and boost business," said Nagaland's agriculture production commissioner Y Kikheto Sema.
The Agricultural and Processed Food Products Export Development Authority and Nagaland State Agricultural Marketing Board coordinated the export sourced from Peren district.
Sema said the increase in production of Naga King Chilly can be supported under several centrally sponsored schemes.