Netaji, Congress followed different paths with same destination: Mohan Bhagwat
Jan 23, 2023 12:26 PM IST
The RSS chief draws parallels between the ideologies followed by the right-wing organisation and Subhas Chandra Bose.
Congress and Netaji had different paths to follow back then but the destination was same, Rashtriya Swayamsevak Sangh (RSS) chief Mohan Bhagwat on Monday said at an event in Kolkata's Shaheed Minar, marking 126th birth anniversary of Subhas Chandra Bose. During his address, Bhagwat urged everyone to instill Netaji's qualities in themselves and to "bring his dreams, that remained unfulfilled, to fruition".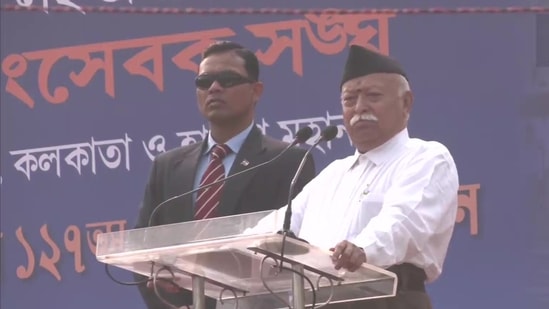 "Subhas babu (Netaji) was first associated with the Congress and followed its path of 'satygraha', and 'andolon', but when he realised that this was not enough and there was a need for freedom struggle, he worked towards it. Paths differ but the goals are the same," Bhagwat said.
Read| Emulate Netaji's ideals in political, personal actions, says his daughter
He further aligned RSS's objective to make India a great nation with that of Subhas Chandra Bose's. "We have Subhasbabu's ideals in front of us to follow. The goals he had are our goals too... Netaji had said India is a smaller version of the world and India has to provide relief to the world. We all have to work towards it," the RSS chief said.
Read| Parakram Diwas 2023: 10 things to know about Netaji Subhash Chandra Bose
Bhagwat's remarks came amid criticism that the ideologies of both the RSS and freedom fighters were not the same. According to critics, Netaji believed in secularism, whereas RSS follow the 'hindutva' ideology.