New in Northeast | Why the demand for a separate IAS & IPS cadre was reignited
Published on Jun 06, 2022 03:54 PM IST
When a couple in Delhi, both of whom are IAS officers, emptied a stadium to walk a dog and got transferred to Ladakh and Arunachal Pradesh, it triggered a debate over suitcase officers. Here's what this means: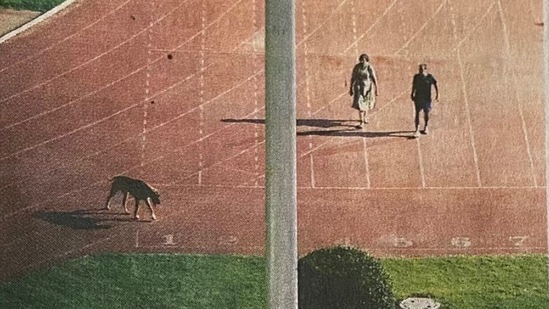 The recent transfers of a senior bureaucrat couple from Delhi to Ladakh and Arunachal Pradesh, who emptied a sports stadium to walk their dog, has reignited the demand for separate Indian Administrative Service (IAS) and Indian Police Service (IPS) cadres in Mizoram and Arunachal Pradesh.
Following news reports and social media outrage over the IAS couple's dog walking routine (allegedly at the expense of athletes), the Union home ministry transferred Sanjeev Khirwar and his wife Rinku Dugga (who were posted to the Delhi government) on May 27 to Ladakh and Arunachal Pradesh, respectively.
The 1994 batch IAS couple are from the Arunachal Pradesh, Goa, Mizoram, and Union Territory (AGMUT) cadre. Unlike states which have separate cadres for IAS and IPS, officers from this cadre are controlled by the Union home ministry which decides on their transfers, promotions, and postings.
Stating that posting IAS and IPS officers for short tenures hurts the interest of states, the governments of Mizoram and Arunachal Pradesh have, for years, requested the Centre to create separate cadres for them. Arunachal Pradesh has a sanctioned strength of 37 IAS officers, while Mizoram has 29.
Following their transfers to Ladakh and Arunachal Pradesh — considered by some as hardship or punishment postings — the issue of the need for separate cadres found renewed resonance.
"Our party has been making that request to the Centre since the time Atal Bihari Vajpayee was the prime minister. But every time [we do], New Delhi assures us they will look into it and nothing further happens," said Mizoram home minister Lalchamliana.
"In Mizoram, IAS and IPS officers from the AGMUT cadre are posted for just two years after which they are transferred. Because of the short duration, most of these officers start thinking of when they will leave the state right from the time they land in Aizawl," he added.
Lalchamliana stated that due to the short and irregular nature of their tenures, most IAS and IPS officers from the AGMUT cadre don't feel much of an attachment to the state and don't learn the local language, which, in turn, affects their ability to function effectively, thereby affecting the state's development.
"It's a fact that Arunachal Pradesh is under AGMUT cadre. And all postings to the state have to be done under the same cadre. The issue of the IAS couple and their conduct was very unfortunate. At the end of the day, we are still under AGMUT cadre and we have to live with it," Arunachal Pradesh chief minister Pema Khandu said on June 1.
In the past three years, Khandu has made several requests to the Centre for a separate cadre as officers are posted only for two years per tenure. By the time they come back to serve in the state again, there's a loss of institutional memory, which consequently affects development.
Incidentally, though the separate cadre was created for officers serving only in Union Territories, the practice continues for Arunachal Pradesh, Mizoram and Goa — decades after they became full-fledged states. Sikkim, which is much smaller in size, has own its IAS/IPS cadre.
"In Mizoram, we call these IAS/IPS officers from AGMUT cadre 'suitcase officers'. It's because they always keep their suitcases ready to leave the state and go to Delhi or other places at the slightest excuse," said Vanlalruata, former president of Central Young Mizo Association (CYMA), the largest and most influential organisation in Mizoram.
"These officers don't need to learn the Mizo language and the state government has no control over them. We had submitted a memorandum to both Prime Minister Narendra Modi and Union home minister Amit Shah in November last year seeking a separate cadre for Mizoram," he added.
Recently Mizoram's NGO Coordination Committee, a conglomerate of five big civil society groups, which is headed by CYMA, planned a protest outside chief secretary Renu Sharma's office in Aizawl, seeking to replace her with a Mizo-speaking IAS officer. Since Sharma, an officer from the AGMUT cadre, was in Delhi on the proposed date of protest, the stir was called off.
Enjoy unlimited digital access with HT Premium
Subscribe Now to continue reading
Topics
Close Story
Personalise your news feed. Follow trending topics