SP should first join hands with BSP for grand alliance: Nitish to Mulayam
Updated on Nov 03, 2016 12:35 PM IST
Bihar chief minister Nitish Kumar says for an effective alliance, SP should tie up with BSP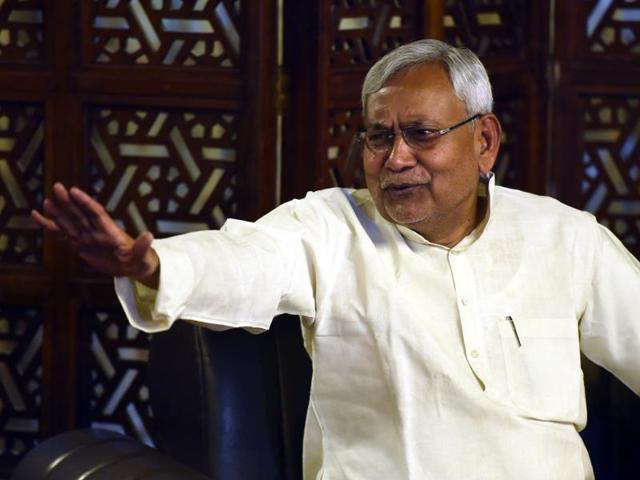 The Samajwadi Party wants to do a Bihar in Uttar Pradesh by forging a successful "grand alliance". But, Bihar chief minister and Janata Dal (United) leader Nitish Kumar may have just put a stop to all the coalition talk.
Kumar, whose JD (U) is crucial to the alliance, has set an impossible condition -- the SP should join hands with archrival Bahujan Samaj Party for the alliance to materialise.
"Any grand alliance in UP will only take shape when the SP and the BSP are together," Kumar said here on Wednesday, virtually echoing the BJP that said an effective coalition would not be possible without the two parties.
Battling a damaging power struggle in his family, Samajwadi Party chief Mulayam Singh is keen on an alliance in Uttar Pradesh that is due for state elections early next year.
Kumar said nothing had moved beyond talks on the possibility of a tie-up with the Rashtriya Lok Dal. "Talks were held in February but it could not move ahead. Talks were held again but it could not take any final shape," he said.
Kumar, who will skip the silver jubilee function of the SP on November 5 and has asked general secretary KC Tyagi to represent the party, said moving out of Bihar at the time of Chhath, a popular local festival, was not possible.
The Bihar CM, however, said he was for a truck between six socialist parties. "I have always supported any move towards unity. The talks for unity of six parties had reached an advanced stage. We tried for merger and elected Mulayam Singh Yadav as the leader… but things did not materialise," he said.
Kumar has not hidden his disappointment over the failed unity bid ahead of the last year's Bihar election. The SP's decision to walk out of the grand alliance, or Mahagatbandhan, at the last moment, strained ties between Kumar and Yadav.
The bitterness lingers. The party leaders were not interested in a tie-up with the SP, JD (U) sources said.
"A fresh move will serve no end. If this alliance has to be worked out, it should be for the 2019 Lok Sabha election and not only for the UP polls," a JD (U) leader said on condition of anonymity.
Kumar's decision to skip the SP event has not gone down well with the alliance partner RJD.
On Wednesday, RJD leader and former union minister Raghuvansh Prasad Singh asked Kumar to visit Lucknow in the interest of an all-India alliance. "He should go and attend the function forgetting all differences. Then only can one think of a grand alliance in the country," he said, adding the BJP would gain if the parties failed to come together.
RJD chief Lalu Prasad and SP leader Yadav share close ties. One of Lalu's daughters is married to Yadav's grandson.
The JD (U) didn't take kindly to the "unsolicited"advice.
"We don't need anybody's advice what to do and what not to do. Our national leadership is capable of taking decision on any issue," JD(U) spokesperson Neeral Kumar said.