No disquiet among Karnataka Congress MLAs over ministerial berths: Siddaramaiah
Siddaramaiah, who is the leader of Karnataka Congress Legislature Party, says he has had talks with everyone, including MB Patil, who were reportedly unhappy over not becoming a minister.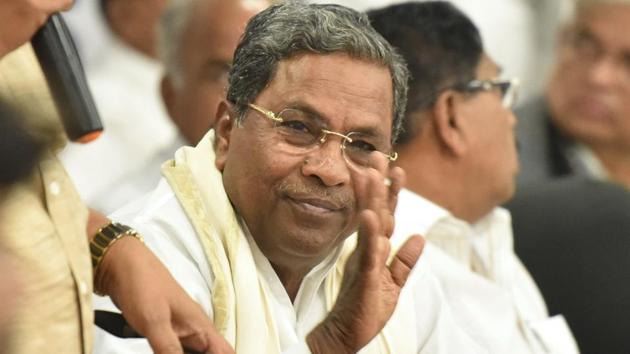 Updated on Jun 12, 2018 06:47 PM IST
Press Trust of India, Bengaluru |
Press Trust of India
Former Karnataka chief minister Siddaramaiah on Tuesday maintained there was no discontent within Congress now over denial of ministerial berths and expressed confidence that no party MLA would join hands with the BJP.
Confident about the Congress-JD(S) coalition government completing its full five year term, Siddaramaiah, who is also leader of the Congress Legislature Party (CLP), said, "There is no one who is dissatisfied... everyone is satisfied now."
Pointing out he has had talks with everyone who were reportedly unhappy over not becoming a minister, including MB Patil, he said "how much ever BJP tries to entice our MLAs, no one will go."
There was growing discontent among newly elected Congress lawmakers who were left out during the June 6 cabinet expansion, with some openly expressing dissatisfaction and holding separate meetings.
The disquiet that had come out in the open soon after the exercise has gone silent in the last two days following efforts by the party leadership to pacify upset MLAs.
Responding to BJP state president BS Yeddyurappa's comments that several Congress leaders are eager to join his party, Siddaramaiah said Yeddyurappa's words have no value.
"He (Yeddyurappa) himself doesn't know what he is talking about," he told reporters in Mysuru, as he accused the BJP of trying to entice Congress MLAs with money and posts.
He said the coalition government's first coordination committee meeting is scheduled for June 14.
Siddaramaiah, who heads the coordination committee that has the responsibility to oversee smooth functioning of the coalition government, said the agenda has not yet been prepared.
"I will look into it once I go to Bengaluru tomorrow," he said.
Stating that he hasn't spoken to Congress president Rahul Gandhi yet regarding the issue of new Karnataka Pradesh Congress president, the former chief minister, in response to a question, said he would go to New Delhi after completing pending work here, including his nature care treatment.
Siddaramaiah said he was confident of the government completing its term, adding the public mandate was for five years.
"Only thing is that a coalition government had to be formed as the public verdict was not in favour of one party," he said.
To a question on Kumaraswamy's comments about rampant corruption in the system, Siddaramaiah said: "I don't know where he has seen (corruption), if he has seen let him stop.... When he has come to know where corruption is, let him stop."
Stating that corruption starts with transfers, Kumaraswamy had on Monday said there are middlemen in the corridors of Vidhana Soudha (the state secretariat) for this purpose who claim the chief minister and ministers are with them.
Not wishing to react on Kumaraswamy's statement that he was made chief minister on Congress' insistence, he said "I haven't spoken to him, so I cannot react."
The former chief minister also termed reports about his contesting the coming Lok Sabha election as a "creation of the media".
Close Story