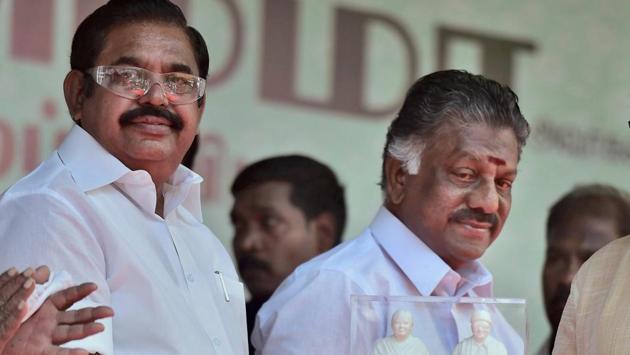 No one can divide us: Tamil Nadu CM Palaniswami after AIADMK MLA jumps ship
Deputy CM O Panneerselvam also took a veiled dig at actor-turned-politicians Kamal Haasan and Rajinikanth.
UPDATED ON FEB 24, 2018 07:42 PM IST
A day after an AIADMK MLA switched loyalty to dissident leader TTV Dhinakaran, Tamil Nadu chief minister K Palaniswami said on Saturday attempts to drive a wedge between cadre and the party won't work.
Taking potshots at Dhinakaran without naming him, Palaniswami said attempts to topple the regime and split up the party continue to be a "day dream," for them.
Addressing cadres on the birth anniversary celebrations of late Jayalalithaa at party headquarters in Chennai, the chief minister said no one could touch the government till it had the blessings of Amma.
"The 1.5 crore cadres are guarding the party and the government like soldiers. Some are thinking of creating differences among us to gain from it. Such a thing will never happen. All of us are working in cohesion right from office-bearers to workers. No one can divide us," he said.
Meanwhile, hitting out at the Palaniswami regime as a "crowd of betrayers," Dhinakaran, in his message to cadres on the birth anniversary of Jayalalithaa urged them to take a vow to usher in a "true people's regime" under the stewardship of "party general secretary Chinnamma."
Deputy chief minister O Panneerselvam, too, in his address to cadres on Saturday took a veiled dig at actor-turned-politicians Kamal Haasan and Rajinikanth. "New balloons have begun to fly in the political sky. Colourful, cosmetics smeared balloons will be only beautiful to see. We and this nation will see that such balloons will soon burst and go down," he said.
Panneerselvam said the "dialogues," of such new entrants to politics who have taken new "political avatar," will end up like the "flowerpots (after displaying colourful lights)," and their make-up will soon be gone, he said.
Close