CCTV cameras weren't working in Bhopal jail when SIMI prisoners escaped
Nov 01, 2016 04:04 PM IST
Surveillance cameras inside Bhopal's central jail weren't working and may have helped eight alleged Islamic radicals to escape, sources said on Tuesday.
Surveillance cameras inside Bhopal's central jail weren't working and may have helped eight alleged Islamic radicals to escape, sources said on Tuesday, as investigation into the daring jail break gathered pace.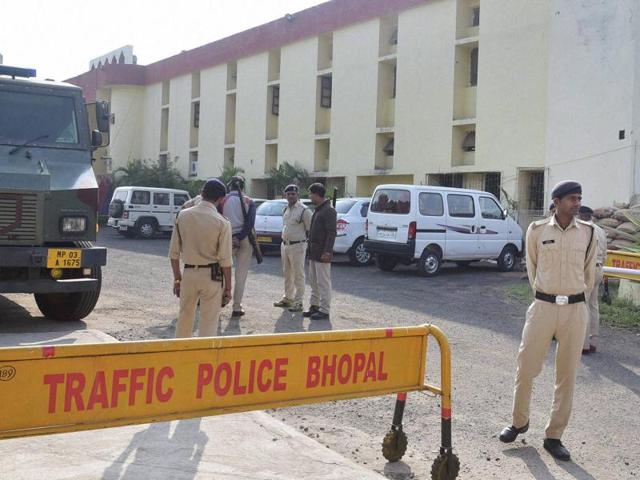 The eight suspected members of the Students Islamic Movement of India were gunned down in an alleged encounter hours after they used knotted bedsheets to climb out of prison after killing a guard. The National Investigation Agency and the Intelligence Bureau are probing the incident.
Jail officials haven't commented on the CCTV surveillance as five officials were already removed from duty and the new team had just taken over. Sudhir Sahi, a 1988 batch IPS officer, took over as the new additional director general of prisons on Monday evening. Sahi was not available for comments.
But sources said the alleged SIMI operatives knew about the non-functional cameras. Former director general of police Nandan Dubey, who has been appointed by chief minister Shivraj Singh Chouhan to investigate into the incident, is also likely to look into the CCTV issue.
Police said the eight men escaped from jail around 2am on Monday after killing a guard and holding another hostage. They then used knotted bedsheets to fashion a rope and climbed out of the prison. Hours later, they were shot dead by police when they allegedly fired at the forces.
But activists have sought a probe after a video clip purportedly showing policeman shooting at an apparently injured fugitive lying on a flat-topped rock raised doubts about the authenticity of the encounter.
Experts say the CCTV not being fully functional in the state's most-secure jail indicates a severe lapse in security mechanism, especially after sources confirmed that SIMI inmates fashioned duplicate keys of their cells from metal tongue cleaners.
Read | Bhopal jailbreak exposes security gaps in MP's best-secured prison
The high-security central prison in Bhopal had 29 SIMI operatives, all bundled into a single jail after six men from the outfit escaped from the Tantya Bheel central jail in Khandwa district on October 1, 2013. The suspected lynchpins of Monday's jailbreak — Amjad, Zaqir Hussain, and Sheikh Mehboob alias Guddu — were among the six who escaped from the district jail three years ago.
Questions are being asked as to how these men's activities went unnoticed despite the authorities having full knowledge of the trio's previous experience of a jailbreak. The police have not ruled out the possibility of they getting help of an insider and say the intelligence gathering system inside the jail was weak.
Read | 'Cops murdered my son': SIMI operative's mother says encounter staged
Following the encounter, security in Bhopal and its nearby areas was beefed up. The special security arrangement assumed significance as Madhya Pradesh is celebrating its 61st foundation on Tuesday.
The state government has scheduled a colourful programme in Lal parade ground in Bhopal to celebrate the foundation day with all grandeur. Performances by playback singers Hariharan and Sunidhi Chauhan will be the highlights of the colourful cultural programme. There will be dance performances, and a show by the 80-member band 'Rhythm of Madhya Pradesh'.
The entire Lal Parade Ground area has been cordoned off and there is constant police checking at all entry and exit points of the capital city. "We cannot take any chance with the security. Police are at high alert," Yogesh Choudhury, IGP of Bhopal said.
Meanwhile, post mortem examinations of all the eight alleged SIMI activists have been performed at the Hamidia hospital in Bhopal. The state administration is getting ready for handing over of the bodies of the slain SIMI cadres.
"Family members from Ujjain and Khandwa are likely to reach soon," one of the officials said. Five SIMI cadres were from Khandwa, and one from Ujjain in Madhya Pradesh. One SIMI activist was from Gujarat, while other was from Maharastra.
The state government has already informed Gujarat and Maharashtra government, and is trying to work out the modalities for handing over of the bodies.
Read | What is SIMI: All you wanted to know about the banned organisation