Obama signs into law bill declaring India a 'major defence partner'
Updated on Dec 25, 2016 12:03 AM IST
US President Barack Obama has signed into law the $618 billion defence budget for 2017, which enhances security cooperation with India and conditions nearly half of the funding to Pakistan on a certification that it is taking demonstrable steps against the Haqqani Network.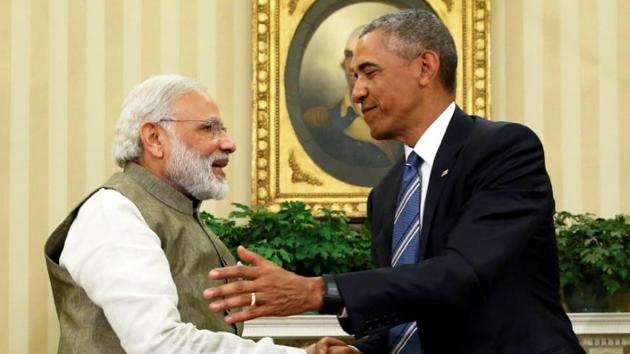 President Barack Obama on Friday signed a legislation that approves $619 billion budget for US military in 2017 and codifies India as a "Major Defence Partner", a distinctly unique definition the US doesn't use for any other country.
The India section of the voluminous Act, the details of which have been widely reported as it travelled around the legislature getting procedural approvals, essentially institutionalises and commits future government to that definition, unless recalled.
The Obama administration declared India a "major defence partner" — borrowing it from a legislation moved by Congressman George Holding, a co-chair of the House India caucus — during Prime Minister Narendra Modi's June visit.
The legislation has been called both "symbolic, expressing a sense of where congress stands on ties with India", as an expert has said, to not doing enough, and failing to upgrade ties to a higher level, say, to match the one US has with Israel.
India has welcomed it, with sources saying, it "locks in" all future administration to the definition, and have said the closer ties that some people have advocated could have been counterproductive, and not in India's interest.
Benjamin Schwartz, who headed the India desk at the Pentagon till a year ago, wrote in a recent piece about the legislation that the intent was to bolster India as "predominant security provider in the Indian Ocean Region" to offset China's military superiority.
Read | US defence bill pledges $900 million to Pakistan
Shwartz, who is now with the US-India Business Council, argued that "the growing gap between Chinese military power and that of its neighbours increases the risk of instability in Asia. This gap is provocative and dangerously so in a region that contains the world's most important trade corridors".
The India section, which is titled Enhancing Defence and Security Cooperation with India, and directs the administration to appoint an official to directly oversee the relationship, identify impediments and resolve them.
Specially, those issues that are impeding "United States-India defence trade, security cooperation, and co-production and co-development opportunities".
The first report under this law will come in around June from the incoming administration of President-elect Donald Trump, who has said, at an election rally in November, India and the US will be "best friends" on his watch.
Personalise your news feed. Follow trending topics