Odisha CM writes to Nirmala Sitharaman urging to withdraw 18% GST on Kendu leaf
Debabrata MohantyDebabrata Mohanty
Nov 27, 2022 12:59 PM IST
Patnaik said as Kendu, a minor forest produce, is the financial backbone of about 8 lakh leaf pluckers, binders and seasonal workers, most of whom belong to the tribal community and poorest sections of Odisha
Odisha chief minister Naveen Patnaik on Saturday urged union finance minister Nirmala Sitharaman to consider withdrawal of centre-levied goods and services tax (GST) on Kendu leaf in the state as it was adversely affecting the trade and livelihoods of locals dependent on it.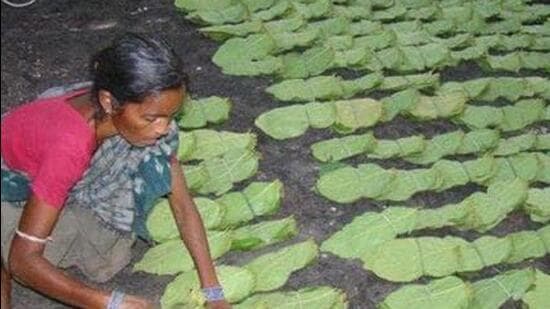 In a letter to the finance minister, who also heads the GST council.
Patnaik requested that the 18% GST on Kendu leaf be rolled back in the greater interest of the state of Odisha as lakhs of people associated with the trade are getting affected.
Also Read: Archana Nag case: Opposition demands CM Naveen Patnaik's resignation
"The tribal people collect the leaves as part of their right defined under Scheduled Tribes (ST) and Other Traditional Forest Dwellers (Recognition of Forest Rights) Act, 2006. They have the right to procure and sell these products," said Patnaik.
"The imposition of GST of 18% on Kendu leaves is adversely affecting the trade. This in turn affects the livelihoods of Kendu leaves pluckers, binders & seasonal workers and the implementation of the social security and welfare schemes for them. In the interest of the livelihoods of the community it is urged upon to withdraw the imposition of GST on Kendu leaves for the greater interest of the state of Odisha," wrote Patnaik.
Patnaik said as Kendu, a minor forest produce, is the financial backbone of about 8 lakh leaf pluckers, binders and seasonal workers, most of whom belong to the tribal community and poorest sections of Odisha, the imposition of GST on the item has a negative impact on the implementation of welfare schemes.
Prior to the implementation of GST, Odisha imposed a 5% VAT on Kendu leaves. After the implementation of GST in July 2017, a GST of 18% is being levied on Kendu leaves which includes 9% central GST and 9% state GST. As the tax is high, the traders who get the tender from Odisha Forest Development Corporation to collect Kendu leaves, are paying even less to the tribals collecting the leaves.
Meanwhile, the Odisha CM on Wednesday announced a special package for the welfare of 8 lakh Kendu leaf pluckers and other persons engaged in the trade.
This development comes in the wake of the upcoming assembly bypoll in Padampur of Bargarh district next month.
Patnaik said ₹1,000 will be given to each plucker and ₹1,500 to each seasonal staff and binders in the first phase.