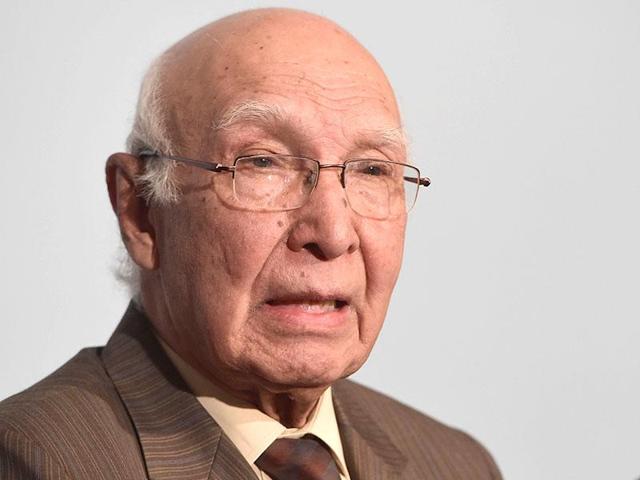 Pak PM Sharif wrote to 17 countries against India's NSG berth: Aziz
Pakistan's intensive diplomatic lobbying, including Prime Minister Nawaz Sharif personally writing to 17 prime ministers, prevented India from gaining entry into the Nuclear Suppliers Group (NSG), top Pakistani Foreign Affairs Advisor Sartaj Aziz said on Monday.
By Agencies
UPDATED ON JUN 27, 2016 11:11 PM IST
Pakistan's intensive diplomatic lobbying prevented India from gaining entry into the Nuclear Suppliers Group (NSG), Pakistani foreign affairs adviser Sartaj Aziz said on Monday.
He said Prime Minister Nawaz Sharif personally wrote to 17 PMs opposing India's bid to get a berth in the club of countries controlling access to sensitive nuclear technology.
Read | India deserves to be in NSG, the US will work for it: Richard Verma
"Prime Minister Nawaz Sharif personally wrote letters to 17 prime ministers of different countries on the matter, which is on record," Aziz told the media at the ministry of foreign affairs in Islamabad.
China blocked India's membership of the NSG on the grounds that New Delhi is not a signatory to the NPT. The 48-member group, set up in response to India's first nuclear test in 1974, aims to prevent the proliferation of nuclear weapons.
Read | Pakistan looks for lobbyist in US after diplomatic setbacks
India and Pakistan are the two non-NPT states aspiring for membership of the international nuclear trade cartel.
India hopes that the NSG membership will allow it access to latest nuclear technology and global markets. Energy-starved India has set for itself an ambitious goal of sourcing 40% of its power from non-fossil sources and is relying heavily on nuclear energy to meet the target.
Though New Delhi launched a spirited campaign, it failed to make the cut at the NSG plenary that concluded in Seoul last week in the face of stiff opposition from China and a few other countries.
China clubbed India's entry with that of its all-weather friend Pakistan, which submitted its NSG application within days of India sending its request.
Read | Anti-India or pro-Pakistan? Behind China's NSG veto
Opponents argue that granting India membership will undermine efforts to prevent proliferation and will irk arch-rival Pakistan. Though officially China has not talked about Pakistan's bid, Chinese think-tanks and experts have made the Islamabad-angle amply clear.
Aziz's statement came days after foreign office spokesperson Nafees Zakriya, during his weekly briefing, said Pakistan was seeking backing from other countries but refuted claims that it was lobbying against India.
Prime Minister Narendra Modi had made a surprise stopover in Pakistan in December last year to meet Sharif in a brief bonhomie between the two leaders.
An assault on the Indian Air Force base in Pathankot near the Pakistan border later threw into doubt diplomatic talks planned between the two countries.
Sharif was also on the guest list of leaders from an eight-member regional grouping invited to attend Modi's swearing in 2014.
(With IANS inputs)
Close