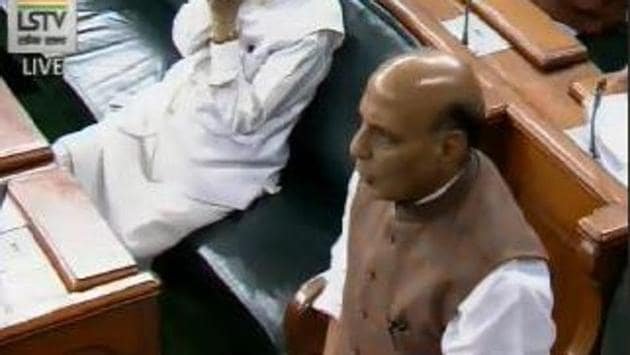 Parliament Day 19 highlights: Oppn attacks govt, Rajnath Singh makes statement on Dalit protests
Protests over several issues, including granting Andhra Pradesh's special status and the delay in forming the Cauvery Management Board, has disrupted the ongoing Budget session in Parliament.
UPDATED ON APR 03, 2018 02:24 PM IST
The Budget session continues for the 19th day amid opposition from parties over several issues, including the Cauvery water distribution between Tamil Nadu and Karnataka.
Ruckus has prevailed in both Houses of the Parliament during this session over the Andhra special status as well, which has led to a no-confidence motion against the Narendra Modi government.
More trouble is expected for the Centre as Dalit protests on Monday sparked violence and brought several places to a standstill following a Bharat Bandh.
The Budget session concludes this week.
Follow live updates here:
12:16pm: Speaker adjourns Lok Sabha till 11 am on Wednesday.
12:15pm: Opposition MPs continue loud protests.
12:13pm: MPs call for discussion of SC/ST Act, accuse the government of diluting it.
12:11pm: Andhra Pradesh CM Chandrababu Naidu meets Farooq Abdullah and Jyotiraditya Scindia in Parliament.
12:11pm: Speaker Sumitra Mahajan raises no-confidence motion while MPs protest in Lok Sabha.
12:10pm: Rajnath Singh concludes speech by appealing to parties to promote brotherhood and maintain peace in the aftermath of the Bharath Bandh violence.
12:09pm: Singh asks citizens to keep calm and remain peaceful while the government addresses their concerns.
12:08pm: The home minister informs the house that the Supreme Court will hear the Centre's review petition of the SC/ST Act.
12:07pm: Rajnath Singh says the government has not diluted the SC/ST Act, NDTV reports
12:07pm: Opposition MPs chant "We want justice" slogans as Rajnath Singh speaks.
12:05pm: Rajnath Singh addresses house. Opposition protests.
Noon: Lok Sabha resumes.
11:41am: Rajya Sabha adjourns till tomorrow following uproar by TDP MPs demanding special category status for Andhra Pradesh.
11:19am: Home minister Rajnath Singh to give a statement in Lok Sabha on Monday's violence during Bharat Bandh protests.
11:09am: BJP's Ravi Shankar Prasad, RJD's Manoj Kumar Jha and TDP's CM Ramesh take oath as Rajya Sabha members.
11:05am: Lok Sabha adjourned till noon after slogans of 'We want justice' are raised as soon as proceedings begin.
11am: Andhra Pradesh chief minister Chandrababu Naidu is in Parliament today.
10:54am: Punjab Congress MPs protest in Parliament demanding financial help for families of those who were killed by ISIS in Iraq's Mosul.
10:35am: Trinamool Congress (TMC) MPs stage a protest outside Parliament condemning atrocities on Dalits.
10:25am: Telugu Desam Party (TDP) MP Naramalli Sivaprasad dresses up as folk dancer and joins other party MPs in demanding special status for Andhra Pradesh.
10:20am: All India Anna Dravida Munnetra Kazhagam (AIADMK) MPs stage protest in Parliament premises over constitution of Cauvery Mangement Board.
10:10am: TDP MP Jayadev Galla says Andhra CM Chandrababu Naidu will be in Parliament today. Naidu will meet floor leaders of parties. "He will not meet anyone in the BJP & Congress, he will discuss how AP has been treated by both national parties during bifurcation," says Galla, according to ANI.
Close