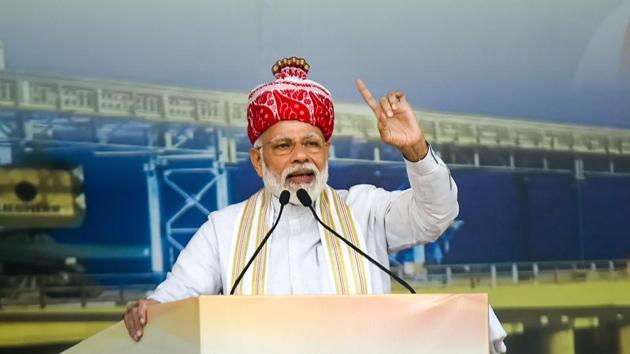 'Picture abhi baki hai': PM Narendra Modi on his government's 100 days
PM Narendra Modi said that "a massive crackdown on corruption has begun. Those people who will try to loot the public will be shown their right places."
UPDATED ON JUN 28, 2020 11:32 PM IST
PM Narendra Modi today said that his government had pledged to fight against corruption and jail corrupts and some are already in, adding that "picture abhi baaki hai (full film is yet to come) and the work done by his government in 100 days is just a trailer.
"Our fight is against corruption and those indulge in such activities. In 100 days we took decisions against such persons. Some of them have been sent to jail," PM Modi said at a public meeting in Jharkhand, adding that the focus of his government is development for all and fight against corruption.
"A massive crackdown on corruption has begun. Those people who will try to loot the public will be shown their right places," he said.
Also Watch | 'Some corrupt already in jail,' PM Modi on his promise to rein in graft
The Central Bureau of Investigation and Enforcement Directorate, country's main anti corruption and anti-money laundering agencies, have arrested and raided several top political leaders including former union minister P Chidambaram and Congress troubleshooter in Karnataka DK Shivakumar, in the last three months since the Modi government came back to the power with a thumping majority for a second term.
The Opposition parties have accused the Bharatiya Janata Party (BJP) of using the investigating agencies to intimidate their leaders or divert the attention of people from real issues.
The ruling Bharatiya Janata Party (BJP) hit back at the Congress for defending those facing corruption charges . "Law enforcement agencies will do their work and courts will do their own work. But, the Congress party and its leadership is trying to convert corruption into a revolution," Minority Affairs Minister Mukhtar Abbas Naqvi said.
Close