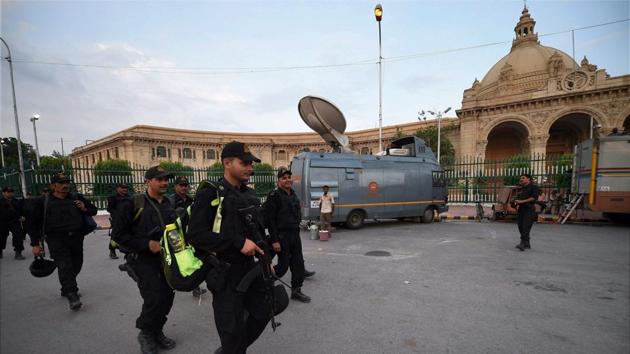 Plastic explosives found in Uttar Pradesh assembly: 5 things about investigation
Explosive powder Pentaerythritol tetranitrate (PETN) was found in a plastic bag inside the Uttar Pradesh assembly, near the seat of the leader of the opposition, Ram Govind Chaudhary. Chief minister Yogi Adityanath has called for a central probe.
Hindustan Times, Lucknow | By HT Correspondent
UPDATED ON JUL 15, 2017 01:03 PM IST
The discovery of plastic explosives inside the Uttar Pradesh assembly has sent shockwaves through security agencies and the government. Chief minister Yogi Adityanath has called for a National Investigation Agency (NIA) probe and has tightened security for legislators, even banning mobile phones from the premises.
Here's five things to know from the incident and investigation:
1. Initial probe suggests PETN or pentaerythritol tetranitrate was brought in from Jharkhand, Chhattisgarh, Andhra Pradesh or Karnataka, where it is used usually for mining. The explosive isn't available in Uttar Pradesh.
2. Police say the explosive was transported by an organised gang in secret to Lucknow and was taken inside the assembly by a single person with access to the premises – this narrows the suspect list down to legislators, their security personnel, assembly marshals and cleaning staff.
3. Sources say the CCTVs in the assembly might not have been working, allowing unknown people to sneak in the explosives in the premises.
4. Police are also grilling a Muslim youth from Deoria, who was arrested a day after the explosives were found for threatening to blow up the assembly on August 15. It is not clear if his threat is connected with the recovery of explosives.
5. Initial probe points at lack of coordination between the three tiers of UP assembly security – Police, secretariat security staff and marshals. Adityanath has asked MLAs to come inside the assembly with a notebook and pen.
Close