PM following someone on Twitter is not a character certificate: BJP IT cell
Sep 08, 2017 08:43 AM IST
The Congress had noted how at least four people followed by Prime Minister Narendra Modi on the social networking site tweeted hate messages after the murder of journalist Gauri Lankesh.
Prime Minister Narendra Modi's action of following somebody on Twitter does not amount to issuing the person a character certificate, the BJP social media team said on Thursday.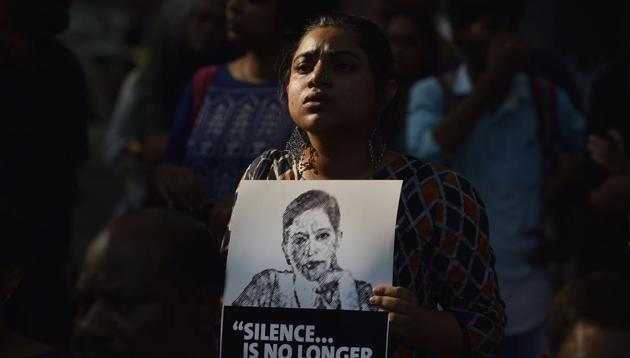 Amit Malviya, the ruling party's national head for information and technology, issued this statement after the Congress noted how at least four people followed by Modi on the social networking site tweeted hate messages in the wake of journalist Gauri Lankesh's murder in Bengaluru on Tuesday.
"PM following someone is not a character certificate of the person, and is not in any way a guarantee of how the person would conduct himself," Malviya said, pointing out that Modi follows the Twitter handles of Congress vice-president Rahul Gandhi and Delhi chief minister Arvind Kejriwal as well.
The BJP's IT cell head also said the Prime Minister still follows Parthesh Patel, a former BJP volunteer who joined Congress and "then began abusing him in the worst possible language". "Our Prime Minister is a rare leader who truly believes in freedom of speech, and has never blocked or unfollowed anybody on Twitter," Malviya claimed.
The statement came after the hashtag #BlockNarendraModi --- calling for users to block the Prime Minister on the social media platform --- begun trending earlier in the day.
Nevertheless, it failed to impress the Congress, which termed it a "rabid and sinister" response. "Justifying PM Narendra Modi following trolls celebrating the murder of Gauri Lankesh has exposed the fanatical and dangerous agenda of the central government and the BJP," said Divya Spandana, the Congress' social and digital media head.
Spandana went on to draw a parallel between the reaction of these people and the Rashtriya Swayamsevak Sangh's response after Mahatma Gandhi's death. "May we remind PM Modi and the BJP that it was this very thought that led to the assassination of Mahatma Gandhi by Godse, with the Sangh distributing sweets to celebrate the occasion. And don't forget that it is for this very reason that Sardar Patel, the home minister of India, banned the Sangh," she said.
Malviya, however, retaliated by stating that Rahul Gandhi is never questioned for the conduct of Congress sympathiser Tehseen Poonawala (who allegedly made a sexist comment against Union minister Smriti Irani) and Kejriwal for the abuse and rape threats his Aam Aadmi Party supporters purportedly heap upon others. "Besides being farcical and fake, this debate also exhibits a selective right to freedom of expression," he added.
But many Twitter users appeared unimpressed.