Tamil Nadu impasse continues: With Sasikala in jail, governor keeps pot boiling
A week-long political drama in Tamil Nadu appeared headed for a climax on Wednesday as two rival contenders for the chief minister's position met the governor and sources indicated Raj Bhavan would take more time before a decision.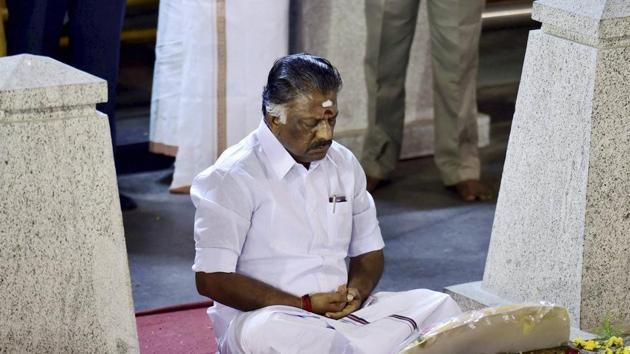 Updated on Feb 16, 2017 07:06 AM IST
A week-long political drama in Tamil Nadu appeared headed for a climax on Wednesday as two rival contenders for the chief minister's position met the governor and sources indicated Raj Bhavan would take more time before a decision.
AIADMK chief VK Sasikala's loyalist Edappadi K Palaniswami met governor C Vidyasagar Rao first, insisting that he was elected legislature party leader unanimously and had the support of 124 MLAs.
"We are leaving here with the belief that the governor will safeguard democracy and will invite Palanaswami," said state fisheries minister D Jayakumar.
An hour later, caretaker chief minister O Panneerselvam drove into Raj Bhavan and told the governor that AIADMK legislators were still held "captive" at a resort near Chennai, where they were taken last week when the political crisis erupted. "If given a chance, I will prove majority on the floor of the house," he said.
But party sources said the numbers were with Palaniswami -- who was elected the legislature party chief after Sasikala was convicted in a corruption case on Tuesday – and he could be invited by Raj Bhavan in a day or two after Sasikala's camp managed to hold all of its lawmakers together.
This dashed the hopes of Panneerselvam, who appeared crestfallen after his strategy of turning a "trickle" of MLAs to his side into a "torrent" failed. Sources indicated with no mass defections, his side remained woefully short of the majority mark of 118 in a 234-member assembly.
"All the 124 MLAs are staying at the resort of their own free will," asserted A Navaneethakrishnan, AIADMK parliamentarian.
This also meant Sasikala, 61, appeared to trounce her rival Panneerselvam by scoring twin victories: Getting her proxy Edappadi K Palaniswami as the leading CM candidate and consolidating her hold on the AIADMK by appointing her nephew as her deputy.
Rao was taking time to announce his decision, sources said, as he was still consulting legal luminaries and might insist on a fresh letter of support signed by all MLAs supposedly backing Palaniswami, which may delay the formal invite. According to sources in the Palaniswami camp, the party will send another letter to the governor with signatures.
The evening meetings culminated a day of drama as Sasikala – a former video cassette saleswoman who became former chief minister J Jayalalithaa's most-trusted aide – travelled to Benglauru to surrender, after the Supreme Court convicted her in a two-decade-old disproportionate assets case.
Read: Sasikala conviction: The possible scenarios for Tamil Nadu and AIADMK
She is going to be lodged in Bengaluru's Parippana Agrahara jail for the next four years and is effectively out of electoral politics for six years thereafter. In the morning, Sasikala visited Jayalalithaa's memorial in Chennai to vow to defeat her enemies and then left for Bengaluru by road, trailed by hundreds of distraught supporters.
But her jail term failed to enthuse the Panneerselvam camp after no new batch of MLAs switched sides. An effort to use "force" by sending police to a sea-side resort where the MLAs were camping failed to uncover even a single legislator who was "illegally confined".
An MLA inside the resort, Dr Sandhya, said police came and disturbed them but asserted that "we all are living here of our own free will. We will do only what Chinnamma has told us to do." All other MLAs who interacted with the media backed Sandhya and said "OPS was a traitor and that he must be taught a lesson."
Read: What we're witnessing now is the beginning of the AIADMK's end
Sasikala – a long-time confidante of former chief minister J Jayalalithaa – had been anointed as the late CM's successor by the state's ruling All India Anna Dravida Munnetra Kazhagam (AIADMK) and was due to be sworn in last week.
But she was pulled into a bitter struggle last week by Panneerselvam, who alleged he was forced to resign. Since then, he has been backed by several MPs and MLAs but a majority of the party is said to be behind Sasikala.
Earlier in the day, she tightened her grip on the party by appointing her trusted nephew TTV Dinakaran as deputy general secretary, a decision that was greeted with shock and anger across Tamil Nadu. Dinakaran was expelled from the party by Jayalalithaa in 2011 after allegations of corruption. Party organising secretary K Pandian resigned in protest.
Close Story