PM Modi hits out at Pakistan, says India won't forget Uri attack
Sep 25, 2016 12:48 AM IST
Prime Minister Narendra Modi on Saturday said India is ready to accept Pakistan's "challenge" for a 1,000-year war, ratcheting up hostilities with Islamabad over a militant attack on an army base in Jammu and Kashmir last week.
India will not forget the militant attack that killed 18 soldiers at an army base in Kashmir, Prime Minister Narendra Modi said on Saturday, but tempered calls for a military retribution by challenging Pakistan to a war on poverty, unemployment and illiteracy.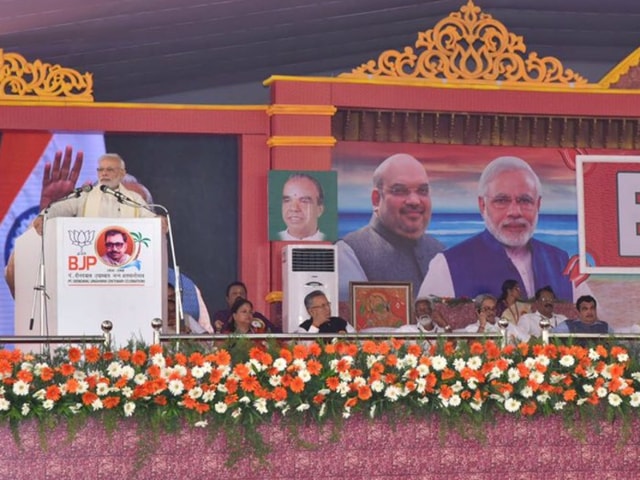 In his first public comments since the Uri attack last Sunday, Modi sought to take the battle across the border by directly addressing the people of Pakistan and telling them that their rulers are "misleading" them by talking about a 1000-year war over Kashmir -- an allusion to an oft-quoted remark by former Pakistan Prime Minister Zulfiqar Ali Bhutto.
In what could be interpreted as provoking Pakistan, Modi said the days are not far when the people of Pakistan will come out to fight against their rulers on the question of terrorism. He did not directly name Pakistan but mentioned the neighbouring country several times to drive home what was the recurring theme -- there is only one country "that exports terror to the entire world".
"Your (Pakistani) rulers speak of fighting India for a thousand years. Today, there is such a government in Delhi that I am ready to accept your challenge... Pakistan's 'awam' (people), I want to say to you, India is ready to fight you," Modi said.
"Come, if you have the courage, let's fight poverty...unemployment…illiteracy. Let us fight and see who is able to end poverty first."
Read | Modi goes beyond knee-jerk reaction to Uri as he harps on Pak's vulnerabilities
In a veiled dig at Pakistani Prime Minister Nawaz Sharif, who many see as a dove turned hawk, Modi said today's rulers (of Pakistan) read out from the text on Kashmir, written by "patrons of terror". The world has no expectations from such rulers, he said, in an indication of New Delhi's disenchantment with the civilian leadership in Islamabad.
Modi was speaking at a public rally in Kozhikode, a coastal town in Kerala, which is hosting a meeting of the BJP's national council, the party's highest policy-making body.
Modi's hard talk against Pakistan came amid growing clamour for a muscular response to the Uri attack with even a senior party leader calling for a "jaw-for-tooth" stand. The BJP is under pressure from some of its cadres to walk its tough talk on Pakistan while in the opposition.
"In the world when reports of terrorism come, then this news also follows that the terrorists came from that (neighbouring) country, or like Osama bin Laden, have found a hideout there," Modi said at the rally attended by BJP president Amit Shah and several Union ministers.
"Pakistan's rulers should know that the sacrifice of our 18 soldiers will not go to waste… Terrorist should listen that India will never forget," he said, in what many saw as a veiled threat to Pakistan.
Read | Uri attack could be the result of Kashmir unrest, says Pakistan PM Sharif
The PM reminded the people of Pakistan that their ancestors revered the same land before Partition in 1947. He exhorted them to ask their "rulers" why they were misleading them on Kashmir when they are not able to keep their own house in order -- in Pakistan-occupied Kashmir, Bangladesh (erstwhile East Pakistan), Sindh, and Balochistan.
"Both countries became Independent together. People in Pakistan should ask their rulers why India is an exporter of software while your rulers export terrorism," Modi said.
This is being seen as India's strategy to pin Pakistan down by highlighting its internal problems. Modi unfolded the strategy in his Independence Day address in August by raising the issues of human rights violations in Baluchistan and PoK.
Read | Pakistan media calls PM Modi's speech venomous