Kerala cow slaughter: Congress distances itself, Rahul Gandhi says it's 'barbaric, thoughtless'
Rahul Gandhi's late-night tweet came after the Congress said it will not support anyone who has violated the law.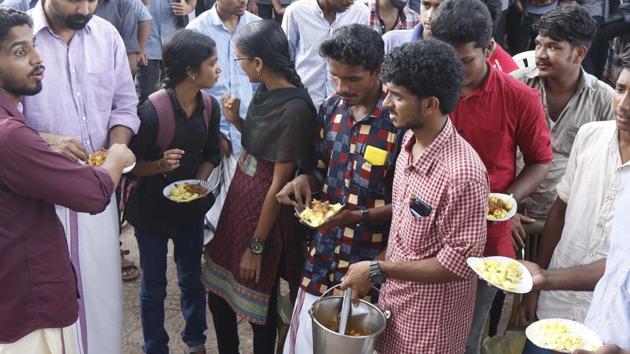 Updated on May 29, 2017 12:35 AM IST
Congress vice-president Rahul Gandhi condemned on Sunday the slaughter of a cow by his party's youth activists in Kerala, terming the incident "barbaric and completely unacceptable" in the wake of a political tug-of-war.
Youth groups of the state's ruling CPI(M)-led LDF and Congress-headed UDF opposition killed the animal in Kannur in public view on Saturday evening, cooked its meat and distributed it during a "Beef Fest" to protest against the BJP-led central government's new rules on cattle trade that ban the sale of cows and buffaloes for slaughter through animal markets .
Congress and other Opposition parties have been fierce critics of the Centre's National Democratic Alliance government over self-styled cow protectors, but Gandhi's condemnation made it clear that his party was distancing itself from the incident that drew flak from animal rights activists.
Kerala BJP president Kummanam Rajasekharan, who posted a purported video of the incident on Twitter, called it "cruelty", saying no normal person can behave in this manner.
Kannur Police in north Kerala booked some Youth Congress activists, who were charged under the Prevention of Cruelty to Animals Act 1960.
Though Kerala is one of the few Indian states where cow slaughter is not banned, animal lovers said "brazen acts" like the one in Kannur glorified cruelty towards animals.
"If anyone has violated the law then he should be dealt with accordingly and the Congress party will not support him. However, we need to first establish whether the person in the video is related to the party or not," said Congress spokesperson Abhishek Manu Singhvi at a press briefing in Delhi.
The CPI(M) too strongly protested against the cow slaughter. "It is a thoughtless act and it will only help Sangh Parivar outfits. It is sad that Youth Congress activists stooped so low for publicity," CPI(M) member of Parliament MB Rajesh said.
But Youth Congress worker Rijil Makulti, accused of the cattle slaughter, said: "We don't regret our act. This was done as part of our protest."
Beef is a staple food in Kerala, and the Centre's new rules have caused widespread anger. Even Kerala chief minister Pinarai Vijayan criticised the Centre, saying Keralites had a traditional, healthy and nutritious food habit.
The Kerala government, for its part, suggested it could bring in a law to counter the central government rules. The new rules do not amount to a blanket ban on cattle trade or their slaughter, and license breeding remains legal. But the move will crimp supplies to the country's Rs 1-lakh crore meat and allied industries which sources about 90% of their requirements from animal markets.
(With agency inputs)
Close Story
Personalise your news feed. Follow trending topics