Rain hits power generation in Himachal Pradesh's two main hydel stations
Updated on Jul 27, 2018 11:01 AM IST
1,500 MW Nathpa Jhakri and 1,091 MW Karcham Wangtoo shut down operations for hours due to heavy silting after downpour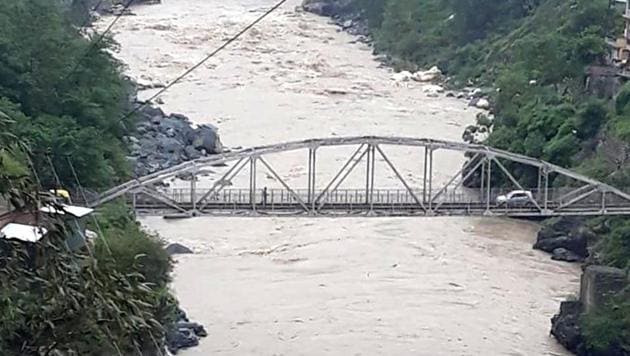 Heavy rain across the state in the last 24 hours disrupted power generation in two main hydel projects — 1,500 megawatt Nathpa Jhakri hydroelectric station and 1,091 megawatt Karcham Wangtoo hydro plant in tribal Kinnaur district.
Both the power plants were shut down due to heavy silting in the dams. Torrential rain in the Sutlej catchment in Kannaur district has increased the water level.
The Karcham Wangtoo plant released water from its dam in the Wangtoo river. The station shut down two of its units generating 250MW electricity on Wednesday evening. The Nathpa plant, a major hydel project supplying electricity to the northern grid, was completely shut down for six hours. The operations resumed late on Wednesday night.
"There was heavy silting after the Karcham Wangtoo plant released water from dam in Karcham. As a result, we had no option but to open radial gates at Nathpa to release water," Manoj Kumar, assistant general manager at the Nathpa Jhakri station, said.
Water was released in a limited quantity from the dam. The water level was brought down by five meters, he said. The dam released 1,500 cubic metre per second water to flush out silt from dams that caused damage to its turbines. Water level rose significantly downstream at the Nathpa dam.
The water level at central water commissions site in Rampur was recorded 921 metre. "Water level in Rampur has increased but river was still flowing below danger mark," Rampur sub-divisional magistrate Narendera Chauhan said.
"Power project authorities warned public not to venture out near river. They have deployed a microphone-fitted vehicle to make announcements," said he.
The two hydel plants at Nathpa Jhakri and Karcham Wangtoo are the biggest electricity suppliers to the northern electricity grid, supplying electricity to Rajasthan, Delhi, Uttar Pradesh, Punjab and Haryana.
Water level rose significantly at Beas river in Hamipur distict.

Flood in Manikaran
In Kullu district, a torrential rain caused flooding in Bhram Ganga, a tributary of Parbati river in Manikaran. The river was in spate and damaged a footbridge, disconnecting several villages. Rains caused damage to a house and the water mill in Chamba districts of Salooni. Pick vehicle was drowned in Chamera dam near Koti phul in Chamba district. Two occupants of the vehicle are reported missing. Police has launched an operation to search them. Four cowshed and two houses were damaged in Sarkha ghat.
Personalise your news feed. Follow trending topics