Raped for months and left for dead, trafficked Bengal teen turns campaigner
Feb 18, 2017 04:51 PM IST
Aaftaab (name changed) was trafficked from West Bengal in 2014, brought to Delhi and sexually assaulted by different men for months before being left in a hospital.
Fourteen months ago, she was battling for life in a Delhi hospital after being sexually assaulted for months. The 18-year-old girl, who was unable to sit, talk or walk when she was admitted to Guru Teg Bahadur Hospital in December 2015, now campaigns to prevent young girls from falling into the trap of traffickers.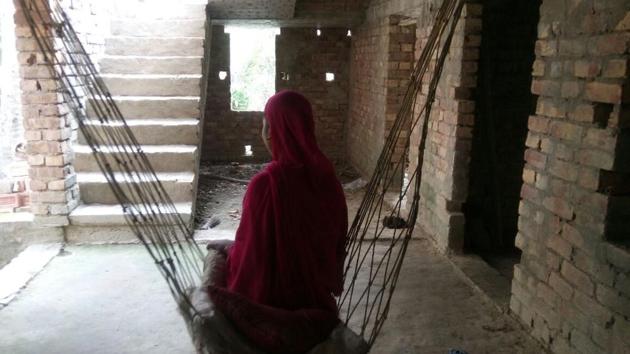 She returned home in January 2016 and now goes to schools and helps West Bengal Police initiative - Swayamsiddha (self-empowerment) - in creating awareness about trafficking among young students.
"I am still on medication and have to visit hospital once in a month. That incident changed my life and I am scared of going out of my house. But I don't want any other girl to meet the same fate. For that I help police educate young students," said Aaftab (name changed), who now lives at her home in south 24 Pargana district.
That is quite a change from December 2015. When HT met her in the hospital, her legs were infected and doctors had to remove pus regularly to prevent the infection from spreading. She had gag wounds around her mouth. Her father, who is a daily wage labourer fears that his daughter will remain unmarried but now he wants to fight against traffickers.
"There is a social stigma and I am aware of it. I wanted my daughter back and I will now take care of her. Together we will ensure that the person who made her life hell, gets punishment," said her father. The girl, who was trafficked from West Bengal in 2014, said she was sexually assaulted over 10 times in a day by different men for six months. According to doctors, the cause of her deteriorating health was repeated sexual assault.
"I have been taken to Rishikesh, Haridwar, Manali, Mangalore and many other locations and kept at someone's place where people used to come and rape me. This happened for over six months and traffickers used to beat me up on refusal. I caught fever and my health started deteriorating. Then the trafficker dropped me in the hospital and left," the girl told HT.
It was after Hindustan Times highlighted her plight that she was given medical attention, which ensured speedy recovery. "The cause of infection was repeated sexual assault. She was diagnosed with septic arthritis, and displayed visible lacerations in and around her mouth consistent with gag wounds. The girl is courageous and has now recovered from the trauma. That is why we are talking more about gender based violence and a girl like her will help us in creating awareness," said Rishi Kant of Shakti Vahini, an NGO which monitored her rehabilitation.
Kant said that with the help of the US consulate, they are trying to create awareness on gender based violence in the region with focus on college campuses. Compensation given by the state government and the Centre has helped her pick up the threads of her life.
"After the state government, the ministry of home sanctioned Rs 5 lakh for me, which will help in getting the right treatment," she said. She is one of the thousands of girls trafficked every year to Delhi from states such as Jharkhand, West Bengal and Assam. Some are forced to work as domestic helps in inhuman conditions while many are pushed into prostitution.
According to a global survey report, India has the largest population of modern slaves in the world, with more than 18 million people trapped as bonded labourers, forced beggars, sex workers and child soldiers. The Global Slavery Index by human rights organisation Walk Free Foundation said the number was 1.4% of India's population, the fourth highest among 167 countries with the largest proportion of slaves. Battling poverty, young people, especially women, get taken in by the promise of a better life and fall prey to traffickers who run a well-organised racket.