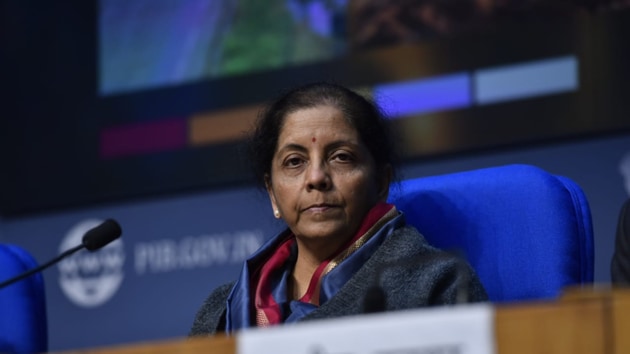 Nirmala Sitharaman unveils Rs 102L-cr infra project pipeline
Finance Minister Nirmala Sitharaman on Tuesday said that a task force has identified Rs 102 lakh crore worth of projects after conducting 70 stakeholder consultations in a short period of four months.
Hindustan Times, New Delhi | By HT Correspondent
UPDATED ON AUG 15, 2020 01:08 AM IST
Union finance minister Nirmala Sitharaman on Tuesday outlined an infrastructure project pipeline worth more than Rs 102 lakh crore to be implemented over the next five years, which, she said, will serve as one of the key drivers of faster economic growth and the government's ambition of turning India into a $5 trillion economy by 2024-25.
The projects have been classified under two broad categories — economic infrastructure and social infrastructure for both ease of doing business and ease of living, Sitharaman told reporters, unveiling the National Infrastructure Pipeline (NIP) on the last day of 2019.
ALSO WATCH | Sitharaman launches infra pipeline to double investment to Rs 105 trillion
NIP is a booklet prepared by a task force that gives details of infrastructure projects in which the energy sectors make up the lion's share of 24%, followed by roads (19%), urban development (16%) and railways (13%). The shares of rural and social infrastructure projects, which include health, education and drinking water, is 8% and 3%, respectively.
The government hopes the massive investment will help spur economic growth, which decelerated to 4.5% in the quarter ended September, the slowest pace in six years and the sixth consecutive quarterly decline in a row. The finance ministry has taken 32 measures since August to boost the economy, including corporate tax cuts at a cost of Rs 1.45 lakh crore to the exchequer to attract investments and about Rs 5 lakh crore in disbursal of bank loans since October to spur demand.
Sitharaman said private companies will account for 22%-25% of the investments and the balance will come from the Centre and the states in equal proportions. She said the task force prepared the NIP in record time, holding 70 conferences of entities engaged in various sectors, and the government will examine its recommendations to take speedy action.
The task force was constituted to draw up the NIP under the chairmanship of the economic affairs secretary after Prime Minister Narendra Modi on August 15 announced the intent of the government to make massive investments in infrastructure.
The task force held its first meeting in September 2019.
"I'm happy to say that the promise which Prime Minister made during his Independence Day speech 2019... within the end of the year, we have kept the promise," she said.
Modi said in his Independence Day speech that India needed to build modern infrastructure to reach global standards. "So we have decided to invest 100 lakh crore rupees for modern infrastructure in this time period. This will generate employment; will develop new systems and various aspirations will be met," he had said from the ramparts of the Red Fort.
Out of the total expected capital expenditure of Rs 102 lakh crore, projects worth Rs 42.7 lakh crore (42%) are under implementation, projects worth Rs 32.7 lakh crore (32%) are in the conceptualisation stage and the rest are under development , a finance ministry statement said. "It is expected that projects of certain states,who are yet to communicate their pipelines, would be added to the pipeline in due course," it said.
"To achieve the GDP of $5 trillion by 2024-25, India needs to spend about $1.4 trillion (Rs 100 lakh crore) over these years on infrastructure. In the past decade (FY2008-17), India invested about $1.1 trillion on infrastructure," the statement said.
Niranjan Hiranandani, president of the Associated Chambers of Commerce and Industry of India, said: "The finance minister has unveiled Rs 102 lakh crore of infra projects over the next five years, it will create new jobs, support related industries as also enhance the nation's growth into the $5 trillion economy. It dovetails with other positive moves which the Indian Government has recently unveiled, and the positive effects should be visible sooner rather than later."
He said the implementation of public-private partnership project will be key, noting that "private players are still facing an acute credit crunch" and the government needs to address the issues confronted by private entities.
Topics
Close