Sabarimala row: BJP leaders held at base camp, central team meets governor
With the BJP deciding to intensify its struggle on Sabarimala, a party team led by general secretary Saroj Pandey arrived in the state for discussions with local leaders on the issue. They also met governor P Sathasivam and submitted a memorandum.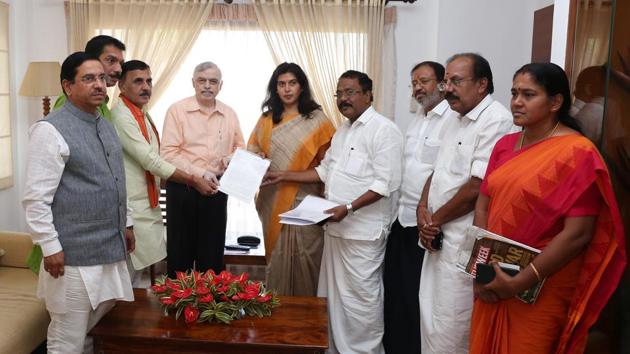 Updated on Dec 02, 2018 11:27 PM IST
Hindustan Times, Thiruvananthapuram | By HT Correspondent
Bharatiya Janata Party (BJP) leader B Gopalakrishnan was arrested from Sabarimala Temple's Nilakkal base camp on Sunday even as the party's four-member team arrived in Kerala seeking to intensify its agitation against the entry of women aged between 10 to 50 into the shrine from Monday.
A BJP team-led by general secretary Saroj Pandey arrived in Kerala as Gopalakrishnan was arrested along with his supporters for flouting prohibitory orders at Nakkal. Gopalakrishnan earlier led a sit-in and chanted hymns at Nilakkal after police asked him a give a written undertaking that they would return from Sabarimala within six hours.
The team will also meet BJP leader K Surendran, who was jailed for participating in the protests against the entry of women into the temple. It will submit a report to Shah, who is expected to visit Kerala in December.
"We will intensify our agitation. [BJP] general secretary A N Radhakrishnan will start his fast in front of the [state] secretariat [in Thiruvananthapuram] on Monday. By keeping Surendran in jail for over two weeks, the chief minister [Vijayan] has exposed his Stalinist face again," said BJP state president P S Sreedharan. He refuted reports the BJP has diluted its stand on Sabarimala.
The developments came a day after the state government announced programmes to check the BJP's attempts to make inroads into Kerala on the back of protests against the Supreme Court's September order that overturned the ban on the entry of women aged between 10 to 50 into the temple.
The Supreme Court verdict triggered protests with many devotees stopping women of menstruating age from entering the hilltop shrine.
Hindu groups have justified the prohibition arguing that the women in the 10-50 age group cannot be allowed into the temple since its presiding deity, Ayyappan, is eternally celibate.
BJP chief Amit Shah visited Kerala in October and pledged to stand with the protesters "like a rock".
Kerala's ruling Left Democratic Front government on Saturday announced plans, including a "women wall" on Jan 1 from the state's one end to another, in support of the court order. "Great Wall of Kerala, to prevent the state from sliding back into medieval madness, going to be raised by one million women from one end of Kerala to other on New Year day. It will be a very, very happy New Year," tweeted state finance minister Thomas Issac on Saturday.
Chief minister Pinarayi Vijayan also on Saturday said nobody can take the progressive state to Dark Ages.
Shah had in October pledged support to the Sabarimala agitation and criticised the court for "delivering verdicts which are not feasible and workable on the ground." He announced his decision to trek to the temple during the 64-day annual pilgrimage season which began on November 17.
The Congress, too, has been opposing the entry of menstruating women into the shrine. Ramesh Chennithala, the party's leader, criticised the government plans to rally support for the court's verdict saying it would amount to a misuse of taxpayers' money. "This will [also] polarize the state… The chief minister should see it is not a state-sponsored programme," he said.
Close Story