Sabarimala temple to distribute cardamom-less 'aravana payasam' after HC order
Jan 11, 2023 10:43 PM IST
The Kerala high court ordered the Sabarimala shrine not to distribute a batch of payasam that contained pesticide-laced cardamom seeds
The Travancore Dewasom Board (TDB) that runs the hilltop temple in Sabarimala in Kerala has decided to produce cardamom-less "aravana payasam", main prasad of the temple, after the high court ordered the shrine not to distribute a batch of payasam that contained pesticide-laced cardamom seeds.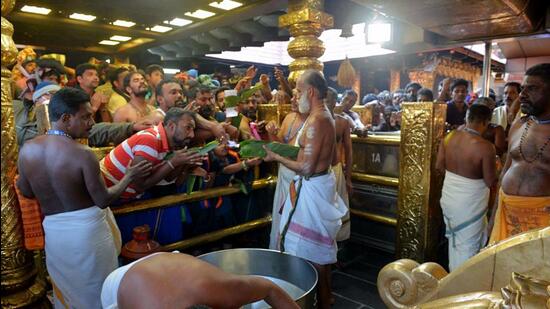 "We will clean all machines and make "payasam" without cardamom for the time being. From Thursday onwards we will distribute payasam sans cardamom and hectic efforts are on to procure organic cardamom," said TDB president K Ananthagopan adding the board will ensure high-quality cardamom in future. Tests conducted at two labs of the Food Safety Authority in the state Capital Thiruvananthapuram and Food Safety and Standard Authority of India in Kochi had found high traces of pesticide in prasad.
Last week, the high court ordered the temple authorities to test payasam after many devotees complained about the quality of it. Later both labs submitted reports in the court confirming presence of chemicals beyond permissible limits. They also said traces of more than 10 pesticides were found in some of the samples. Soon after the reports came ,a division bench of the high court on Wednesday ordered the shrine board not to distribute the batch of payasam that contained pesticide-laced seeds.
The court also directed the food safety officer of Sabarimala to ensure that payasam cans that contained pesticide-laced cardamom should not be distributed. It also asked the officer to sent fresh batches of samples for another round of tests after two days. The division bench of justices Anil K Narendran and P G Ajith Kumar said they will hear the petitions after two weeks.
The main revenue of the temple is from "aravana payasam," a black kheer made of rice, jaggery, ghee and cardamom. It forms 60% revenue of the temple and during rush hours the plant produces over one lakh cans a day and keeps enough buffer stock. The hill-top shrine is situated in Periyar Tiger Reserve in Western Ghats mountain ranges in Pathanamthitta district. Pilgrims from across the country throng the shrine during the annual festival season between November and January. The "Makara Vilakku", the most important day of the annual pilgrimage, falls on Jan 14.