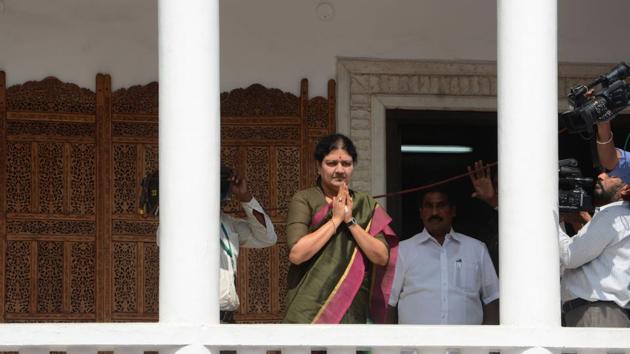 Sasikala takes over as AIADMK general secy, invokes Jayalalithaa
Sasikala Natarajan broke down on Saturday as she officially took over as the acting general secretary of the AIADMK at a ceremony held in Chennai.
UPDATED ON JAN 01, 2017 12:34 AM IST
The AIADMK got a new leader on Saturday as Sasikala Natarajan took over as acting general secretary of the ruling party in Tamil Nadu, officially stepping into the shoes of Jayalalithaa who died on December 5.
The 60-year-old Sasikala has been the closest aide of the late AIADMK chief and six-time CM since the 1980s. She has been taking care of party affairs, though she never held any formal position in the AIADMK.
"For Amma the party was her life, and for me Amma was my life," Sasikala said in her first public speech after taking charge.
She is made acting general secretary because the party has retired the general secretary's post, which Jayalalithaa held till she died after a cardiac arrest.
"I used to constantly think about her. Akka (elder sister) are you going to kottai (secretariat)? Akka have you eaten? For the rest of my life I will live for my party and the people. Amma's dream will continue for Tamil Nadu," she said and broke down.
The legions of supporters of Jayalalithaa, a popular cine star in her youth, endearingly called her Amma, or mother. There were mixed opinion within the party about Sasikala's elevation after Amma's death.
The party cadre showed little enthusiasm when Sasikala was formally appointed the party chief at Thursday's general meeting.
But Saturday was different. People cheered and slogans of Puratchi Thalaivi Chinamma (revolutionary leader younger mother), the moniker given to Sasikala rang out.
"Chinamma will lead us on the path that Amma showed us," a party worker said. "She will safeguard her legacy," she added.
Sasikala will hold the position until formal party elections, which sources said will be held in the first week of January.
Party rules say candidates for the top post must be an AIADMK member for at least five years.
Sasikala, who was expelled from the party by Jayalalithaa in 2011, formally rejoined in 2012. The party presidium is expected to amend the bylaws prior to the elections.
Close