Security along India's porous border with Pakistan needs a revamp
The deadliest attack on an army base in Uri in Jammu and Kashmir on September 18 has yet again exposed gaping holes along the 744-km long Line of Control with Pakistan. While India weighs its options to counter Pakistan, HT looks at existing security grid along the vast and porous frontiers of J&K.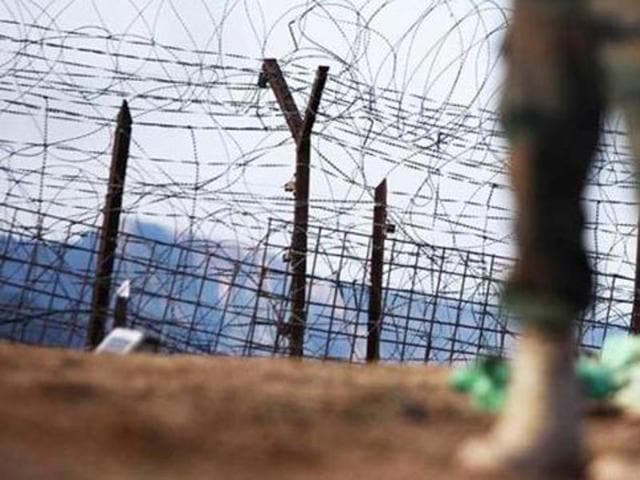 Updated on Sep 22, 2016 08:05 AM IST
The deadliest attack on an army base in Uri in Jammu and Kashmir on September 18 has yet again exposed gaping holes along the 744-km long Line of Control with Pakistan. While India weighs its options to counter Pakistan, HT looks at existing security grid along the vast and porous frontiers of J&K.
While Pakistan had raised an embankment after the 2002 Indo-Pak ceasefire agreement on their side of Punjab province along 198 km long international border (IB) with Jammu region, India has put on hold a project of acquiring 135-feet wide land along the entire length of the border.
"The Centre is reconsidering it and as such no work on it has started. In fact, the project has been shelved. The land had to be acquired for raising fresh border fence and not an embankment," a home department official told HT.
The IB runs from Paharpur on Kathua-Punjab border to Chicken's Neck area of Akhnoor, north of Jammu on the Indian side.
The Centre had planned the embankment (135 feet wide and 10 feet high) which was to be an amalgamation of the existing structure on the border including cattle fence, border fence, floodlights, earthen mounds followed by a road that would have run parallel to the border from Paharpur to Chicken's Neck in Akhnoor.
Read: Uri terror attack: 5 reasons why isolating Pakistan globally won't be easy
Fences Not Foolproof
While the Border Security Force (BSF) guards the IB, the army protects 744-km long LoC in J&K.
"The BSF presently has an anti-infiltration obstacle system (AIOS) in place that includes border fence, electric live wires, sensors, sirens, foot patrols, floodlights, other surveillance devices including hand held thermal imagers. We also have raised laser walls in some of the riverine gaps," said a top BSF source.
During winters, terrorists shift their focus from the LoC to the IB, largely a plain area to infiltrate for staging attacks. The BSF is the first line of defence at the IB followed by a miniscule presence of troops from the Western Command and then comes the turn of border police and Village Defence Committees in Kathua, Samba and Jammu districts.
The LoC in J&K is one of the most difficult terrains in the world that witnesses heavy snowfall and avalanches during winters and landslides, and floods during monsoons.
"The AIOS is not a foolproof system. Though it consists of 10 to 12 feet high and 6 to 7 feet wide mesh of concertina wire followed by flood lights, sensors, sirens, thermal imagers, minefields and foot patrols and drones for recee, it remains vulnerable," said a senior Army officer.
The AIOS, which costs Rs 8 crore per km, gets buried in winters under heavy snow and then it becomes easier for the infiltrators to walk over and enter India.
After the attack on the Pathankot air base last January, the Centre had decided to set up a comprehensive integrated border management system comprising CCTV cameras, thermal imagers and night-vision devices, surveillance radar, underground monitoring sensors and laser barriers to plug the India's porous border.
"The project has been started in a couple of stretches in Jammu on an experimental basis but it has not gained the desired momentum. It moves at a snail's pace," said the officer.
Read: Prepare for the worst: The Indian State is in retreat in Kashmir
Tunnel Threat
Pakistan's secret trans-border tunnels have also exposed vulnerability of the security grid along the borders.
Since July 2012, Pakistan has attempted three trans-border tunnels in Jammu. Tunnels in Chachwal village of Samba, Pallanwala in Akhnoor sector and RS Pura sector of Jammu district were undoubtedly new tools in Pakistan's proxy war.
A BSF official said there was no foolproof technology to detect underground tunnels and therefore the force has put the border under physical domination and regularly undertakes anti-tunneling drives.
Ground penetrating radars, too have their limitation, he said. More than 40 vulnerable unfenced stretches have to be covered with laser walls along the Indo-Pak border.
Read: UNGA: Sharif hits out at India, says Kashmir's 'struggle' is legitimate
According to Lt Gen RR Nimbhorkar, GOC of 16 Corps, 150 to 170 terrorists have been waiting in various launch pads on other side of the LoC in PoK and there are at least 17 terror camps opposite the Poonch sector.
While the undulating grounds in the plains of Jammu have their own challenges, the hilly terrain, high altitude, vast area and terror camps close to the LoC in Pakistan-occupied Kashmir (PoK) present their share of difficulties.
Another top army officer told HT that they have started replacing conventional concertina fence on the LoC with a "new type of fence having an integrated system with a lot of sensors. It is stronger than the previous fence."
A total of 457 villages with a population of 4,51,856 are located at the IB and LoC in Jammu, Samba, Kathua, Poonch and Rajouri districts in the Jammu region.
Winter Aids Infiltration
About 30% of the fence along a 344-km stretch of the LoC inKashmir gets damaged every winter. The LoC in Kashmir starts from Gulmarg in Baramulla to Kupwara and Gurez in Bandipora district.
Northern Army Chief Lt Gen DS Hooda had told this correspondent last year that, "to overcome the problem, we already have about three new designs, which we are looking at. We have already done the trials and it has been put up at Shamshabari in Kupwara district. The new design has integrated modern sensors and night vision devices".
However, top army sources confided to HT that no fence could guarantee zero infiltration because of the hilly terrain, topography, dense jungles and heavy snowfall in Kashmir during winters.
The LoC in Kashmir has many more than 40 infiltration points.
"While militants keep changing routes, there are 16 to 18 launch pads across the LoC in Kashmir," said an Army officer.
Besides Keran, Machhil and Tangdhar in Kupwara, Gurez in Bandipora and Kanzalwan and Nowshewra ridges were used by the militants to get into the Valley.
Former GOC of Srinagar-based 15 Corps Lt Gen Syed Ata Hasnain wrote in a recent article that through 1990s there was infiltration into the valley from every direction, even over the Pir Panjal range.
"Since the training camps (42 of them) were spread all over PoK, even well south of Pir Panjal in the Kotli, Nikial and Mangla areas on the PoK side, infiltration took place in Jammu division too. Here, staging areas and bases were established," he had said.
Close Story