'Some jealous of India's growing economy': Sitharaman in war-of-words with Congress MP
Dec 12, 2022 12:54 PM IST
Union finance minister Nirmala Sitharaman was responding to Congress MP Anumula Revanth Reddy's question in which he had asked whether the government has taken note of the fact that the Indian currency is "weakening day-by-day and has hit ₹83 per US dollar for the first time ever."
Replying to a question in Lok Sabha on India's currency devaluation, Union finance minister Nirmala Sitharaman on Monday lamented that "some people in Parliament are jealous" of the country's growing economy.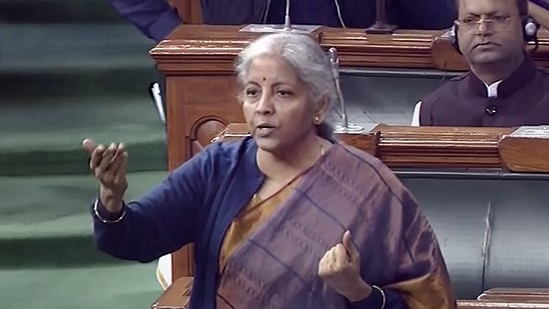 "India has the fastest-growing economy but opposition has a problem with it. Everyone should be proud of India's growth but some people take it as a joke," the minister said.
Sitharaman was responding to Congress MP Anumula Revanth Reddy's question in which he had asked whether the government has taken note of the fact that the Indian currency is "weakening day-by-day and has hit ₹83 per US dollar for the first time ever" and sought details of action taken to stem the slide. Reddy also took a swipe at the central government by quoting a 2013 statement by then Gujarat chief minister Narendra Modi, now the prime minister, targeting the Manmohan Singh-led UPA government.
"Today Rupee is in ICU. I do not know why Tamil people sent this person to Delhi," Modi had tweeted in October 2013 in a veiled jibe at then Union finance minister P Chidambaram.
Reddy asked whether there is an action plan to ensure the rupee "returns home from the ICU".
"The Indian rupee has been strong against every currency. Reserve Bank has used foreign exchange reserves that it has to intervene in the market to make sure that the Dollar-Rupee fluctuation does not go too much," Sitharaman replied.
The rupee declined 35 paise to 82.63 against the US dollar in early trade on Monday as heavy selling pressure in domestic equities and a strong greenback in the overseas market weighed on investor sentiments, reported PTI. At the interbank foreign exchange, the domestic unit opened weak at 82.54 against the dollar, then lost further ground to quote at 82.63, registering a fall of 35 paise over its previous close.
(With PTI inputs)