Strong winds in Atlantic create high waves off Indian coasts over 10k km away
The Indian National Centre for Ocean Information Services (INCOIS), a unit of the Ministry of Earth Sciences, issued 'swells' alerts to states including Karnataka, Tamil Nadu, Andhra Pradesh, West Bengal, Odisha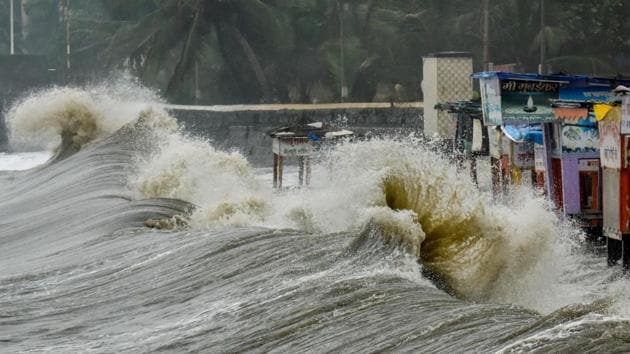 Published on Apr 27, 2018 01:41 PM IST
Press Trust of India, New Delhi | By Press Trust of India
Strong winds in the Atlantic Ocean, more than 10,000 kms from the Indian coasts, have given rise to high energy waves in the Arabian Sea and the Bay of Bengal prompting the government to issue alerts for several states over last one week.
Though, these high energy waves, which may rise up to 2-3 metres and are perilous, experts say, because of their capacity to breach the coast, did not cause any death, property and houses were destroyed, officials said.
The Indian National Centre for Ocean Information Services (INCOIS), a unit of the Ministry of Earth Sciences, issued 'swells' alerts to states including Karnataka, Tamil Nadu, Andhra Pradesh, West Bengal, Odisha, besides Andaman and Nicobar Islands and the Lakshadweep archipelago.
Alerts were also issued to the coasts of Goa, Maharashtra and Gujarat, officials said.
In southern states of Kerala and Tamil Nadu, relief camps were set up for people who left their dwellings fearing these waves could crash against their houses.
In Kerala, government officials said 394 houses have been partially damaged due to high waves and sea erosion. The maximum damage was caused in Thiruvananthapuram.
State government sources say nine relief camps have been set up in the state in which 578 people from coastal areas have been shifted.
In neighbouring Tamil Nadu, officials said six relief camps were operating at Kanyakumari which have now been scaled down to three. Also the one set up in Tuticorin district has been shut, indicating the danger has subsided.
Asked as to what birthed these high energy waves hitting states on eastern, western and southern coasts of India, the INCOIS director SSC Shenoi said, "These waves travelled thousands of miles from the South Atlantic Ocean to the Indian Ocean and entered the Arabian Sea and Bay of Bengal. These high period waves can travel long distances and become more strong as the reach the coast."
On an average, he said, these high energy waves rise up to 2-3 metres and are perilous because they can breach the coast. Unlike the normal waves, that hit the coast in a span of 4-10 seconds on an average, these waves do so in a span of approximately 22 seconds, Sehnoi said.
On April 18, the INCOIS noticed formation of high energy waves due to strong cyclone-like winds in the Atlantic Ocean, south south-west of Capetown, South Africa. The INCOIS, which is responsible for tracking any abnormal wave pattern in the sea, issued its first alert for the western coast on April 20, officials said.
There was a red alert issued for Kerala and Orange for Andaman and Nicobar Islands and all states along the eastern coast on Wednesday. The alert for Andaman and Nicobar Islands is still on. Fishermen have been advised not to venture into the sea, officials said.
The IMD has four colour codes to denote the levels of caution. The Red alert is considered serious and demands action by government agencies. While the Orange denotes an alert to be prepared for any extreme weather event. The Yellow indicates that the authorities must keep a watch on the natural calamity, while the Green denotes that no action should be taken and that situation is normal.
Over the last one week, several states issued a series of alerts to their fishermen.
In Thiruvananthapuram, officials have imposed restrictions on people visiting beaches since April 24, officials said. Lifeguards and other tourism employees have been asked to keep visitors off the beaches and barricades were installed to mark danger zones.
In West Bengal, Disaster Management Principal Secretary S Suresh Kumar said the government has intimated the district magistrates in the coastal regions of the state to take necessary precautionary measures regarding the warning and fishermen have been asked to keep away from the sea.
But are such high waves hitting so many Indian states at around same time a unusual phenomenon?
Mritunjay Mohapatra, Additional Director General in the India Meteorological Department, said this isn't the case.
Talking about India's ability to forecast such phenomenon, Shenoi said, "Earlier, we were not in a position to make forecasts but now we have models in place to identify this phenomenon anywhere in the high seas."
After the devastating tsunami of 2004, India developed necessary infrastructure to issue alerts in case of any abnormal wave activity in the seas.
Absence of any alert of the devastating tsunami had claimed over 2 lakh lives in India, Sri Lanka, Indonesia and Thailand.
Close Story