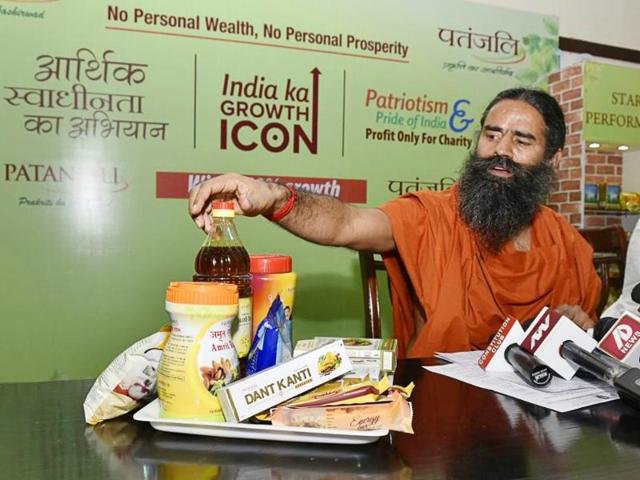 Swadeshi style: Yoga guru Ramdev's Patanjali company to make jeans
Yoga guru says he wants to open Pantanjali factories in Pakistan and Afghanistan.
Hindustan Times | By Pradip Kumar Maitra
, Nagpur
UPDATED ON SEP 11, 2016 07:37 PM IST
You may soon be able to stretch and bend in a pair of "swadeshi" denim that yoga guru Ramdev's multi-crore company, Patanjali, will manufacture and sell.
He announced on Sunday his company will soon venture into the apparel market, making both traditional and modern clothes for men and women, as part of an ambitious expansion plan that aims to make Patanjali a global brand.
"Swadeshi jeans will be launched by the end of the year or early next year. There was a great demand from the youth and, therefore, Patanjali decided to launch Indianised jeans to compete with foreign brands," Ramdev said.
"If permitted, I will start factories in Pakistan and Afghanistan."
The plans to expand into Europe and Africa are part of Patanjali's breakneck growth strategy that has seen the company transform from a small pharmacy in 2007 to a retail behemoth.
The company that deals with packaged food products, grocery, and hair and skin-care items has grown more than 10 times since 2011-12 to Rs 5,000 crore in revenues last year. That's more revenue clocked by consumer product majors, such as Emami, Dabur and Marico.
The brand hit the headlines last year when it took on instant food behemoth Maggi by launching Patanjali noodles, adding to its wide range of atta, biscuits, honey and other food products.
But Patanjali's founder and chief promoter Ramdev wants to leverage the brand's market reputation to foray into new sectors such as edible oils and toilet cleaners, besides expanding into other countries.
"We have already put up units in Nepal. Now we are planning to go global with factories in Bangladesh and Africa and eventually spread wings to Europe and the US," he said.
"There is a huge vacuum for quality products and Patanjali enjoys enormous public loyalty that ensures success."
Ramdev announced Patanjali will set up a composite unit in Bangladesh to make a whole range of its products for the Muslim-majority country. "We will also use the profit for the welfare of that country."
He said manufacturing units in poor countries will boost local economies and export products to rich nations such as the United States and Europe.
Ramdev also rejected allegations that Patanjali's growth was linked to the BJP's coming to power, saying the success was because of 20 years of research by more than 200 scientists and professionals working for the company.
Read: Patanjali launches mega food park at Nagpur industrial hub
Close