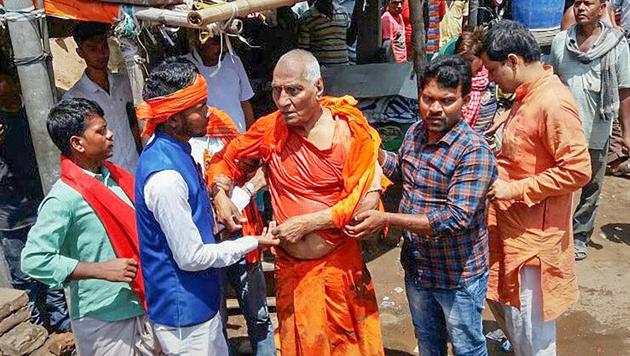 Swami Agnivesh alleges attack by BJP youth workers in Jharkhand
The activists raised slogan against Swami Agnivesh and showed black flags before attacking him in Jharkhand.
UPDATED ON JUL 17, 2018 07:17 PM IST
Social activist Swami Agnivesh was allegedly attacked on Tuesday by workers of the Bharatiya Janata Party's youth wing in Jharkhand's Pakur district, police said, prompting chief minister Raghubar Das to order a probe into the incident.
Agnivesh said he suspected it to be a sponsored assault and demanded a judicial probe.
"As soon as I came out of the venue, BJYM and ABVP activists attacked me without any provocation. They alleged that I was speaking against Hindus," he was quoted as saying by news agency PTI.
"I thought Jharkhand was a peaceful state, but my views have changed after this incident," he said.
Agnivesh was in Pakur to address a tribal festival organised to commemorate the 195th foundation of Damin-i-Koh, part of land allocated to Santhals, at Littipara stadium, around 350km northeast from state capital Ranchi.
The incident took place outside a hotel under town police station, around 30km from the venue of the festival. The Bharatiya Janata Yuva Morcha (BJYM) workers were holding a demonstration with black flags outside the hotel since morning and shouted slogans of "Agnivesh go back".
Agnivesh was attacked by the protesters when he came out of the hotel, police said.
He was dragged, beaten up and his cloth was torn during the assault and reportedly received injuries on his arms, legs and head. A district administration medical team is treating him at the hotel.
Pakur BJYM president Prasanna Mishra, however, denied the allegation of assault. He alleged that Agnivesh had called men armed with traditional weapon like bows and arrows to attack them.
"We are peacefully protesting his visit to Pakur. Agnivesh came here to mislead innocent tribal and misguide them against the government as he was to deliver a speech at a festival sponsored by missionaries," he said.
"We did not assault him but his men assaulted us. Our workers are badly injured in the incident," he added.
The spokesperson of the BJP's state unit P Shahdeo said the men who attacked Agnivesh weren't workers of his party.
"We condemn this but his track record is such that this reaction doesn't come as surprise. Pakur has recently been in news for religious conversion," Shahdeo said.
A video of the alleged attack with a large crowd thrashing the social activist and his supporters was doing the rounds on social media.
Pakur's superintendent of police Shailendra Barnwal said the procedure of lodging a first information report was on at the town police station.
"The organisers had not informed police about the visit of Agnivesh. However, as soon as we got information about the incident, additional forces were sent for his security," he added.
This is not the first time Agnivesh has been attacked publicly. He was assaulted at a public meeting by Mahant Nityanand Das in 2011 over his comments on the Amarnath yatra.
Agnivesh had allegedly said he "does not understand why people go for such yatras" and that the formation of the Shivlingam inside the Amarnath cave shrine was a natural phenomenon.
Close