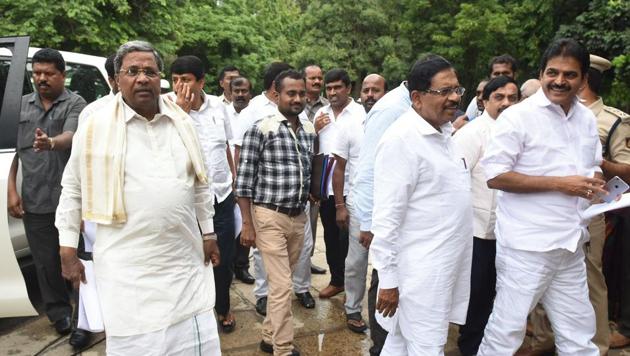 Talk of split in Congress as Karnataka MLAs flock to Siddaramaiah
The rocky start to the Congress-JD(S) coalition government in Karnataka appears to be continuing as speculation over a brewing internal feud in the Congress grow.
UPDATED ON JUN 27, 2018 07:19 PM IST
Congress legislators and leaders continued to head to the temple town of Dharmasthala in Karnataka to meet former chief minister Siddaramaiah on Wednesday, sparking speculation of a factional feud brewing within the party. On Wednesday, five legislators, including a minister, and a member of Parliament met Siddaramaiah.
Minister Ramesh Jarkiholi met the former chief minister along with member of Parliament BV Naik, and members of the legislative assembly (MLAs) Pratapgouda Patil, B Narayanrao, B Nagendra and Basanagouda Daddal.
Siddaramaiah has checked into the Dharmasthala Naturopathy and Yogic Sciences College for a 10-day break to recuperate from the hectic electioneering ahead of state assembly polls in May. But there has been no let-up in politicking with some Congress leaders suggesting that he has emerged as an alternate power centre for the MLAs who feel that they had been wronged by the party high command in the Cabinet expansion this month.
The Congress tied up with the Janata Dal (Secular), or JD (S), in the immediate aftermath of the state polls, after it was reduced to 78 seats from the 122 it had won in 2013. The party's final tally was 80, after it won two seats where voting had been deferred.
Having allied with the JD(S), the party decided to offer HD Kumaraswamy the chief minister's post, but got 22 of the 34 ministerial berths for itself. The two parties had agreed to make Siddaramaiah the chief of a coordination committee that was tasked with ensuring cohesion between the alliance partners.
Over the past month, trouble has never been far from the coalition, and most recently, the decision to present a full Budget came in for criticism from Siddaramaiah, who had presented a Budget in February, his 13th, in which he promised a slew of welfare schemes.
When asked about the agenda for the visit to Dharmasthala, Jarkiholi said the MLAs just wanted to meet their leader, adding that nothing much should be read into the development. "We have just come to visit our leader and there is no agenda. We have just come here to speak with him and cannot reveal anything more at this moment. I request you to not read too much into this," he said.
Even as these developments took place, a steady stream of leaked videos have been circulating with more being released on Tuesday. In the latest ones, Siddaramaiah is purportedly seen questioning the viability of the coalition government beyond the 2019 Lok Sabha elections. HT could not independently verify the authenticity of the clip.
In one of the leaked clips, Siddaramaiah is seen addressing a young man about the political scenario in the state. To a comment by the man, whose identity was not known, that the coalition government might not last five years, Siddarmaiah purportedly responds saying it will last till the 2019 Parliamentary elections.
"Let's see what happens after the Parliament elections. They will be there till those elections, but after that we have to see what developments occur..," Siddaramaiah is purportedly heard saying.
Warning the leaders to not damage the party's reputation, irrigation minister DK Shivakumar said the party would not "digest" any Congress politician going against it publicly. Subsequently, reacting to statements made by former MLA full name Cheluvarayaswamy, who had said that his supporters were opposed to allowing JD(S) to field its candidate for the Mandya Lok Sabha seat, Shivakumar said he must discuss these matters within the party before making public statements.
"In our party there is no worship of personality…We must leave personality cults and worship the party," Shivakumar said. "We will not allow anybody to publicly damage the party and they must discuss these matters within party forums."
Meanwhile, former prime minister HD Deve Gowda, Kumaraswamy's father, said there is no reason for anybody to fear for the coalition government. "Chief minister Kumaraswamy will present the Budget on July 5, and it will be passed by July 12 and the government will not face any troubles. And there is no need for anybody to have any fears over this," he said, addressing journalists in New Delhi.
Close