Taslima Nasreen calls Delhi bus public masturbation incident 'victim-less crime', faces backlash on Twitter
Bangladeshi author Taslima Nasreen said public masturbation was "better than rape" and said men should resort to it instead of raping or murdering. However, her comments on Twitter didn't go down well with many social media users.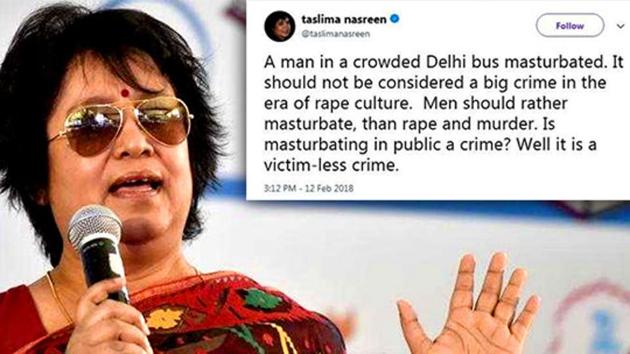 Published on Feb 13, 2018 05:31 PM IST
Hindustan Times, New Delhi | By HT Correspondent
Author Taslima Nasreen calling public masturbation a 'victim-less crime' in response to a man masturbating inside a bus while sitting next to a 23-year-old woman, has drawn the ire of several social media users.
An unidentified middle-aged man masturbated sitting next to the Delhi University student in a bus in south Delhi and allegedly tried to molest her, on February 7.
The Bangladeshi author tweeted twice about the incident – first on Monday, and then on Tuesday after she received flak for her comment. While her second tweet read that women are not safe in practically any situation or scenario, it was the author's first tweet that enraged tweeple.
Nasreen tweeted saying that public masturbation, "should not be considered a big crime in the era of rape culture...Is masturbating in public a crime? Well it is a victim-less crime."
Both her tweets have been shared over 700 times.
While some users point out that masturbation is not victimless and traumatises the victim, several seem appalled at her "supporting an obscene act in public".
A few users, however, agreed with Nasreen but were of the opinion that men should control their sexual desire in public.
The woman reported the matter to the police with a video of the incident after which an FIR was registered at Vasant Vihar police station on Sunday. She said no other passenger on the bus came to her support when she raised an alarm.
The incident took place aboard an orange cluster bus plying on route number 774. The woman was returning home from college when she felt the seat shaking. "I was reading a book when the seat started shaking. I soon realised that the man sitting beside me was indulging in something wrong. He repeatedly tried to touch my waist with his elbow. I recorded his act on my mobile phone before calling him out," she said.
Close Story