Taxi driver killed police inspector in Bulandshahr violence, arrested: Cops
The taxi driver, enraged at seeing a local youth get shot during Bulandshahr violence, caught Inspector Subodh Kumar Singh, snatched his pistol and shot him dead, police said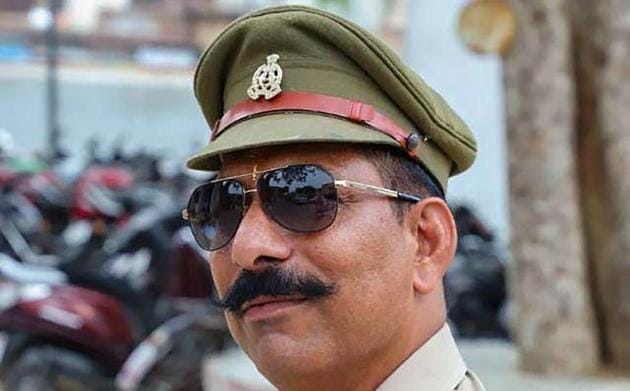 Updated on Dec 28, 2018 12:03 AM IST
Hindustan Times, Meerut/Lucknow |
HT Correspondent
A taxi driver was on Thursday arrested for allegedly killing a police inspector while he was trying to disperse a mob protesting against alleged cow slaughter in Uttar Pradesh's Bulandshahr district on December 3. The mob had attacked the police and set their vehicles and a post afire in a three-hour rampage that followed reports of the recovery of cow carcasses in the district.
Police said Prashant Nat, the taxi driver, has confessed to shooting inspector Subodh Kumar Singh, who was killed along with a local resident, Sumit, 21, in the violence.
The arrest comes over a week after Singh's family blamed political pressure for the police's failure to arrest the main accused in the case.
Earlier, six of the 27 accused named in the case were arrested. As many as 19 others have been held after they were caught on video footages of the violence.
A special investigation team (SIT), which was constituted to probe the violence, arrested Nat near Noida. It had until late Thursday been unable to recover Singh's missing pistol, which was allegedly used to kill him.
Nat's arrest comes even as three key accused, Bajrang Dal's Yogesh Raj, Bharatiya Janata Party leader Shikhar Agarwal, and Upendra Raghav, a Vishwa Hindu Parishad activist, named in the case remain on the run.
The police had on December 14 released posters with pictures of 23 people wanted for the violence.
Bulandhshahr's additional police superintendent (crime) Shiv Ram Yadav said Nat has told his interrogators that he caught hold of Singh when the mob cornered him in an open field after Sumit was shot. He said Nat then allegedly shot Singh dead after snatching the inspector's pistol.
Yadav said Nat had earlier been involved in petty crimes . He said Nat was not among the 27 people named in the case. Yadav added he had disappeared from his village along with his family members after the violence. He said Nat's involvement was ascertained through footage of the violence, electronic surveillance, and statements of other co-accused and eyewitness.
He said the Special Investigating Team had been trying to trace Nat for a few days.
Yadav added Sumit had thrown stones at police along with four other accused, David, Rahul, Jani and Lokendra.
He added Sumit was hit when the inspector fired in self-defence. Yadav said Nat is a resident of Chingrawathi, where the violence had erupted after the recovery of cow carcasses in adjoining Mahwa village on December 3. He said Nat was taken to the violence scene, where the inspector was shot dead. The sequence of the event was recreated on Thursday evening, he added.
Yadav said the mob attacked Singh after the policemen deputed with him fled from the scene leaving the inspector to fend for himself. He added Singh's pistol is yet to be recovered and that they will get Nat's custody on Friday for the weapon's recovery. He said the custody of David, Rahul, and Jani, who surrendered to a court, will be sought for further interrogation.
Close Story
Personalise your news feed. Follow trending topics