Trafficker who smuggled body parts of 125 tigers, 1200 leopards gets four year jail
A notorious wildlife trafficker with international links, who was involved in smuggling body parts of 125 tigers and 1,200 leopards, was convicted by a Madhya Pradesh court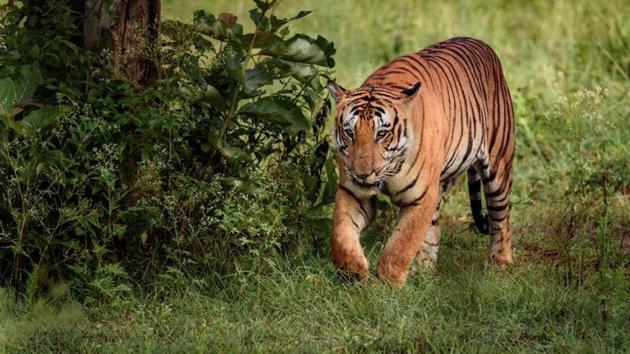 Updated on Oct 16, 2017 10:21 AM IST
A notorious wildlife trafficker with international links, who was involved in smuggling body parts of 125 tigers and 1,200 leopards, was convicted by a Madhya Pradesh court along with four traffickers and awarded four-year rigorous imprisonment.
Madhya Pradesh forest department's special task force (STF) arrested Shamim, who hails from Kanpur, in February this year.
STF officials said he was involved in trafficking animal body parts in the international market via Nepal and Tibet.
Ritesh Sirothia, STF (wildlife crime) in charge, said Shamim, Badrilal Sapera, Mansingh, Prahlad and Raghuvir were convicted and sentenced to prison for four years along with a penalty of ₹10,000 each under provisions of the Wildlife (Protection) Act, 1972.
If they fail to pay the penalty, they will have to serve an additional jail term of 10 months each.
"During questioning, Shamim admitted that he was involved in the trade of 125 tiger and 1,200 leopard hides in Indian and international markets," Sirothia said.
He added that Shamim was also arrested in UP in 2004 with 456 nails of tigers and leopards.
Sirothia said Raghuvir alias Kalicharan was arrested in 1988 with 129 animal hides from Guna district but he managed to get away.
"In 2005, a case was registered against him in Ranthambore too. These convictions are a major success for us," he said
The court said the five were involved in organised wildlife smuggling of wild animals including pangolins, jackals, cobras, red sand boas, hyenas in MP's Narsinghgarh, Sehore, Guna, Rajasthan and Delhi.
According to principal chief wildlife warden (wildlife ) Jitendra Agrawal, the five traffickers were arrested by the STF with pangolin scales and a sand boa snake in January this year and later produced before the court
Close Story
Personalise your news feed. Follow trending topics