Two brides, one groom and a big, happy wedding
Updated on Mar 30, 2017 11:08 AM IST
Sukhmati convinced her boyfriend's father to allow him to also marry another girl he was in love with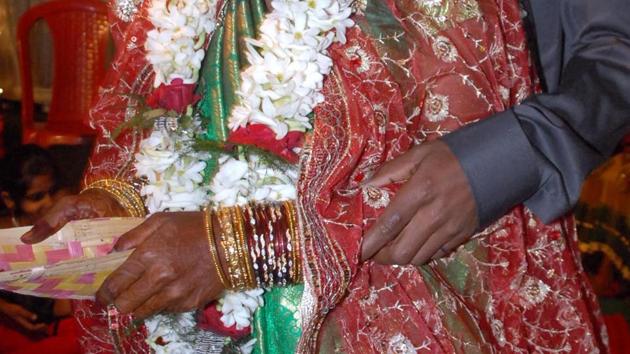 Hindustan Times, Ranchi/Jamshedpur |
B Vijay Murty and Manoj Choudhary
She loved him enough to share him.
When Sukhmati went to her boyfriend Rajesh Devgam's father, her proposal stunned the old man as well as her parents -- she wanted Devgam to marry her as well as Rita.
Rita was the woman Devgam, a young man from Jharkhand's tribal-dominated West Singhbhum district, had fallen in love with though he was in a relationship with Sukhmati.
Devgam met Sukhmati at her handia (rice beer) shop couple of years ago and instantly fell in love. He met Rita while visiting his sister's village and was hopelessly in love, again.
But when it came to taking the vows, the 23-year-old resident of Chaibasa town chose Sukhmati.
Rita was heartbroken and angry. She started pressuring Devgam to marry her instead.
Sensing trouble, Sukhmati spoke to Devgam and told him as polygamy was accepted in their community, he could marry both of them.
"Rajesh had decided to marry me but when I learnt that Rita also loved him dearly, I allowed Rajesh to marry her as well," Sukhmati said.
She couldn't think of a life without Devgam but also felt that taking him away from Rita would be cruel, she said.
So, Sukhmati met Devgam's father, Ghanshyam, a retired police constable, and Rita's father, Lal Singh Biruli, with the proposal.
After some hesitation, they gave in. "We found tremendous bonding among the three and couldn't stop them," Sukhmati's father, Binu Gope, said.
Biruli's argument was more practical. "Girls outnumber boys in our society. It would be apt to marry more than one girl to a man if they are in love," he said.
There are 1,004 females per 1,000 males in West Singhbhum, way better than the national average of 940 women per 1,000 males. For Jharkhand, the figure is 948 women per 1,000 men.
Tribal activist Mukesh Birua said such marriages are recognised by the government.
"The husband has to submit an affidavit confirming both women are his wives and hence eligible for all government benefits, schemes and citizenship documents for married men and women," he said.
And on Monday evening, Devgam married Sukhmati and Rita with the entire village in attendance.
For the villagers, it was a unique but a pleasant experience watching two girls marrying the man they loved without any rancour or bitterness.
Hundreds of villagers watched as the groom sat in the middle with his brides on his sides, taking their wedding vows.
The special arrangement called for an added vow – the two brides promised a peaceful household and not to let personal differences affect their relationship with Devgam.
"We will live like sisters," Sukhmati said.
A happy bride, Rita said it was Sukhmati who made the wedding possible.
And the groom? Well, Devgam is the happiest man around. He married both the women he loved. "I agreed to marry both as they showed no inhibition in living together in my house. I feel I am very lucky," he said.
Close Story
Personalise your news feed. Follow trending topics