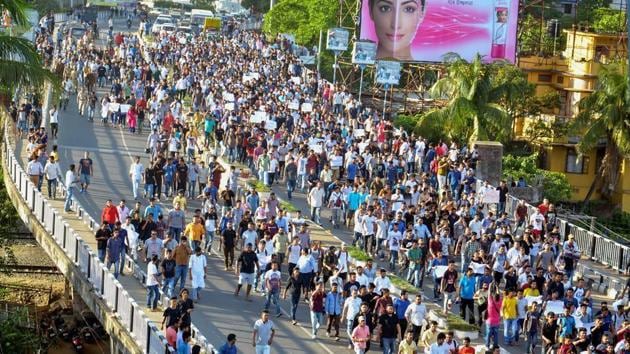 Two Muslim men lynched in Jharkhand's Godda on suspicion of cattle theft
Police say four people have been arrested from Jharkhand's Godda district who caught hold of two Muslims accusing them of stealing 13 buffaloes.
UPDATED ON JUN 13, 2018 08:07 PM IST
An angry mob allegedly lynched two Muslim men on suspicion of stealing cattle in Jharkhand's Godda district on Wednesday morning.
Police said residents of Dullu village caught hold of the two victims – Sirabuddin Ansari (35) and Murtaza Ansari (30) – and accused them of stealing 13 buffaloes from one Munshi Murmu on Tuesday night.
"Villagers claim that that they found the missing buffaloes in the possession of the two people in Bankatti area. They were beaten to death," said Godda superintendent of police Rajiv Kumar Singh.
Also read: Two men lynched in Aurangabad district on rumours of robbery
Murmu and three others – identified as Kaleshwar Soren, Kishan Tudu and Harjohan Kisku – have been arrested in this connection, said Singh, adding that the situation has been brought under control.
The incident comes a week after two men were lynched by a mob in Assam over rumours of child-lifting. At least five people were killed in similar incidents of vigilantism across Telangana and Karnataka in May.
Also read: Suspected kidnapper lynched in Bengal's Malda district
Last year, a number of Muslim cattle traders were lynched in BJP-ruled Jharkhand. A court recently gave life sentences to 11 persons in connection with the incident. In May, a mob lynched four Muslim cattle traders at a village in Saraikelka Kharswan district after accusing them of child-trafficking.
Close