India Ukraine operation - to bring people back home - in numbers
Published on Mar 06, 2022 10:57 AM IST
Ukraine war: Videos are being shared on social media of appeals from students in war-hit country seeking evacuation.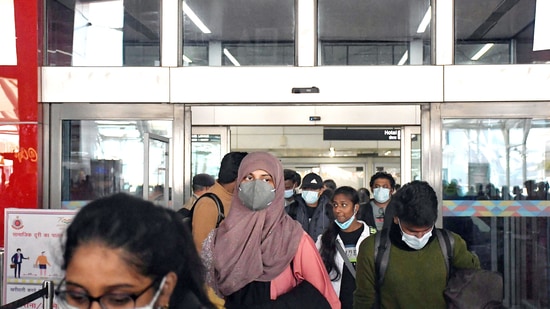 India has flown 13,700 citizens - who were stuck in war-hit Ukraine - back to safety on special flights that were started last week, the government said in a statement on Saturday. Of these, 3,000 people reached the country - on 15 flights (12 civilian and 3 Air force aircraft) - on Saturday. Amid calls for safety of thousands as shelling continues in the major cities of Ukraine, the government has been operating special flights to the neighbouring countries - Poland, Slovak Republic, Romania and Hungary - with the Ukranian airspace closed for civilian flights.
"Today's civilian flights included 5 from Budapest, 4 from Suceva, 1 from Kosice and 2 from Rzeszow," an official statement on Saturday read.
In a tweet, the Air Force said it has flown 11 sorties, 2,226 passengers and over 26 tonnes of relief material amid the crisis.
As a part of the Operation Ganga, the government mission to ensure return of the citizens from Ukraine, 27 control centres have been set up through border crossing points with Hungary, Poland, Romania and Slovak Republic.
In a tweet, the Indian embassy in Ukraine said that all citizens from the city of Pisochyn were evacuated. The war-hit city of Sumy is also in focus.
Prime Minister Narendra Modi has been holding high-level meetings throughout the week to take a stock of the situation. The government had also sent ministers to the countries that are helping India with Ukraine evacuations.
The prime minister also held discussions with Ukraine's Volodymyr Zelenskyy and Russian president Vladimir Putin over the safety concerns.
The opposition leaders - including the Congress's Rahul Gandhi - has been targeting the government with videos from Ukraine linked to the evacuations. Ahead of the election results for five states, the prime minister slammed the opposition for politicising the issue.
Personalise your news feed. Follow trending topics