UP woman cop who stood up against BJP leaders, sent 5 to jail transferred
Hindustan Times, Meerut |
S Raju
Jul 02, 2017 07:26 PM IST
Syana circle officer Shrestha Thakur said she would relent only if the saffron party workers obtained written orders from the chief minister that "police have no powers to check vehicles".
The woman police officer of Syana circle in district Bulandshahar, Shreshtha Thakur, who stood up against local BJP leaders and sent five of them to jail for creating obstacles in discharging government duties, was transferred to Bahraich on Saturday.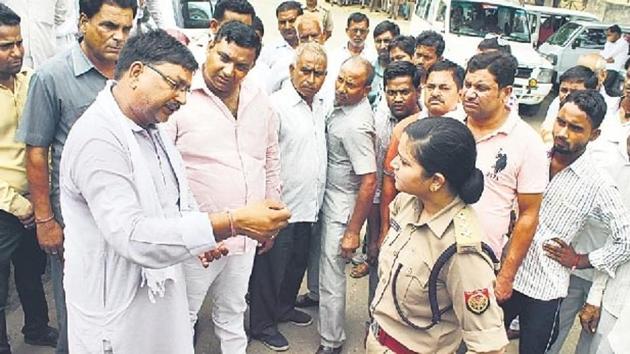 The cop was transferred a week after the incident following a meeting of a delegation of the party's 11 MLAs and MP with the chief minister over the issue. The local leaders had linked it with their pride and pressed the high command to initiate action against Thakur.
Mukesh Bhardwaj, the party city president, made no bones in admitting that Thakur's transfer was essential to keeping intact the pride of party workers and leaders. He also charged the cop with using objectionable language against CM Yogi Adityanath and other party leaders.
Thakur and her team were checking vehicles in Syana area on June 22 when she stopped a person driving a motorcycle without wearing a helmet and slapped a fine of Rs 200 on him. The man introduced himself as BJP leader Pramod Kumar — his wife is a member of jila panchayat in Bulandshahar.
An altercation took place between Kumar and Thakur and the former soon telephoned BJP leaders, who arrived there and objected to the action of police.
Bhardwaj also arrived on the spot and argued with Thakur and other police personnel. He blamed one of the constables for demanding money from Kumar to let him go without a fine.