US assures India it won't cut imports despite $30 billion trade deficit
Hindustan Times, Washington |
Yashwant Raj
Oct 28, 2017 08:29 PM IST
Differences on a wide range of issues still dog Indo-US trade but both Washington and New Delhi have signalled eagerness to solve the problems.
The United States on Friday assured India that it will not curtail imports to reduce or eliminate the trade deficit of $29.6 billion which has been a red flag for President Donald Trump who had promised American companies a fair deal globally by expanding exports.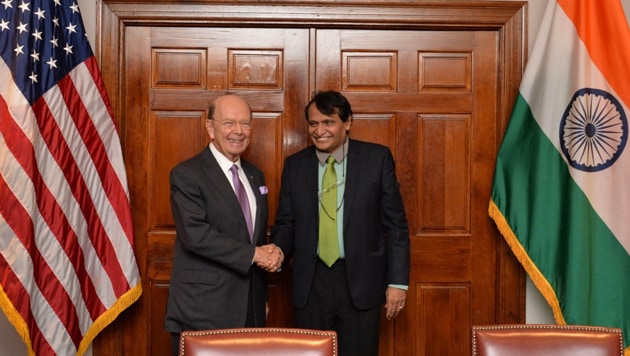 The assurance came from the US Secretary of Commerce Wilbur Ross in his meeting Friday with Union Commerce Minister Suresh Prabhu at the third US-India Commercial Dialogue in Washington, the first iteration of the annual meet under President Trump's watch.
Prabhu told reporters that while Ross admitted that the trade deficit was indeed an issue, the US would deal with it "not by reducing imports from India but by promoting more exports from the US to India".
The Commerce Minister said it was a positive idea that India welcomes. "He basically meant we will be able to buy more from the US," Prabhu said.
The Minister also said there was progress on long-stalled issues bedeviling export of Indian mangoes, pomegranate, apples and grapes into the US that were subjected to long inspection delays involving irradiation which added to cost overruns making them prohibitively expensive in grocery stores.
Alphonso, a prime mango variety eagerly awaited by American fans every year, retails at almost seven times more than the standard rivals that come from Mexico that sell quicker. They are a tough sell even at speciality outlets popular with South Asians.
Indian exporters were assured of express clearance, but in a while.
"While highlighting many areas of progress, both principals also noted the need to lower barriers and committed to make meaningful progress to unlock new trade and investment opportunities for US and Indian businesses," India and the US said in a joint statement after Prabhu's meeting with Ross.
Prabhu tweeted that the dialogue with Ross was an engaging one.
Read more: At testy trade meet, US presses India on imbalance, wants more market access
US trade deficit with India was also a top issue at Prabhu's discussions with US Trade Representative Robert Lighthizer on Thursday as part of the Trade Policy Forum. Prabhu and Lighthizer also discussed market access and regulated pricing of medical devices for Americans and H-1B and totalization (social security collections from Indians employed in the US) for Indians.
In both these meetings the two countries acknowledged lingering differences on an entire range of trade issues, reinforcing the notion that this is perhaps the most vulnerable part of the growing relationship but one that both sides are eager to fix.
Bilateral trade between Indian and the US stands at $115 billion, which is thrice the figure in 2005. America's trade deficit of $29.6 billion had prompted Trump to order an investigation into all unfavorable trade to ascertain if they were caused by unfair trade practices.
Trump's war cry on balance of trade has been a concern for India after he pulled the US out of the Trans-Pacific Partnership, renegotiated Washington's position in the North American Free Trade Agreement (NAFTA) and even took on allies such as South Korea and Japan and, of course China.