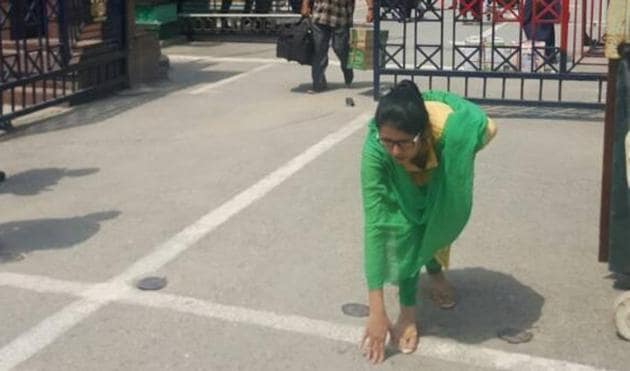 Indian national Uzma, forced to marry in Pakistan, returns home; welcome back, says Sushma Swaraj
Uzma Ahmed told a Pakistani court she was forced to marry Tahir Ali, a resident of Buner in Khyber-Pakhtunkhwa province, at gun point after she agreed to go to Pakistan to meet him
UPDATED ON MAY 25, 2017 12:25 PM IST
Indian national Uzma Ahmed, who had alleged she was forced to marry a Pakistani at gun point, returned home through the Attari border amid tight security arrangements.
Ahmed, who was allowed to return to India by a Pakistani court on Wednesday, was brought back by officials of the Indian High Commission in Islamabad. She did not speak to the media.
Ahmed,in her early twenties, told the court she was forced to marry Tahir Ali, a resident of Buner in Khyber-Pakhtunkhwa province, at gun point after she went to Pakistan to meet him.
"Very happy to hear that Uzma is back, but don't know when she will be back in Delhi, since her flight is delayed," Uzma's brother Wasim Ahmed told ANI.
"Sushma Swarajji always kept us updated on Uzma,made me speak to her once. The Indian government thoroughly helped us,want to thank the external affairs ministry," said Wasim.
During Wednesday's hearing, Justice Mohsin Akhtar Kayani asked Ahmed if she wanted to meet her husband in the chamber but she refused the offer, saying she did not want to talk to him.
The court assured Ahmed she was free to return to India and would be escorted to the Wagah border with police security.
In her para-wise comments, Ahmed reiterated through her lawyer that she had been "terribly beaten…tortured physically and mentally and forced to sign on the nikahnama" by Ali.
She reiterated her allegation that she had been given sleeping pills by Ali, who sexually assaulted her after he received her at the Wagah land border.
Ali had sought court's intervention to meet Ahmed in "a free atmosphere", claiming that she had recorded her statement before a magistrate against him under "duress and pressure" from her brother and officials of the Indian mission.
Ahmed and Ali reportedly met in Malaysia and fell in love, after which she travelled to Pakistan on May 1 via Wagah.
Close