We all met Jayalalithaa in hospital: TN minister counters colleague's claims of party lying
Updated on Sep 26, 2017 07:32 PM IST
Jayalalithaa passed away on December 5 at the Apollo Hospitals, and the government has named a retired judge of the Madras High Court as head of the inquiry commission to probe the death.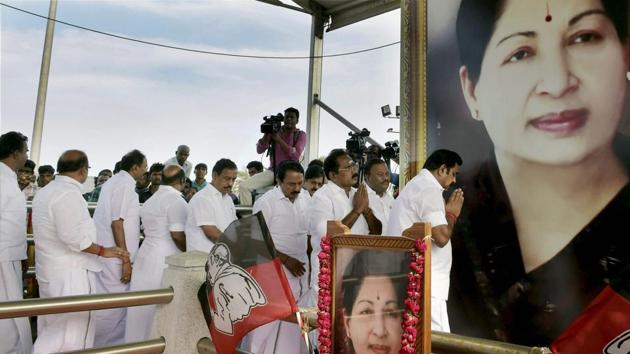 Press Trust of India, Chennai |
Press Trust of India
Tamil Nadu minister Sellur K Raju contradicted on Tuesday the claim of two his cabinet colleagues that no one was allowed to see late chief minister J Jayalalithaa during her hospitalisation last year.
"All the ministers met her," he told reporters when asked if he had met Jayalalithaa during her 75 days of hospitalisation from September 22 last year.
Raju, however, refused to elaborate, and said the death of Jayalalithaa was a huge loss. The cooperation minister said he was not prepared to say anything more on the issue.
"You must only ask the minister who had expressed that opinion," he said when pressed further on the claim by forest minister Dindigul C Srinivasan that AIADMK leaders had "lied" on the health condition of Jayalalithaa and none of them had seen her in hospital.
Srinivasan's comments have triggered a renewed demand by the DMK and other opposition parties for a thorough probe into the death of Jayalalithaa.
Addressing a public meeting in Madurai, Srinivasan had on September 23 apologised to the people, saying they had lied about Jayalalithaa's health.
He said no one was allowed to meet Jayalalithaa during her hospitalisation and all those came were told by her close aide VK Sasikala's relatives that she was "all right".
Srinivasan had said that, afraid of Sasikala, party leaders lied so that people believed that Jayalalithaa was improving.
He had said that their claim of 'Amma' eating idli and tea was based on information given to them by Sasikala.
Endorsing his views, commercial taxes minister KC Veeramani said on Monday the ministers were not able to see the late chief minister even one day.
At a public meeting in Vellore district, Veeramani, without naming Sasikala or her family, said, "Out of fear of this family... we would tell what we were told (by Sasikala's kin)... that Amma had two idlis, she spoke and that she is fine."
On the differing views of his colleagues, revenue minister RB Udhaya Kumar said on Tuesday it was their individual opinion based on their experience.
Jayalalithaa, who was admitted to the Apollo Hospitals on September 22, 2016, passed away on December 5.
The state government named retired judge of Madras High Court A Arumughaswamy on Monday as head of the inquiry commission to probe the death of Jayalalithaa.
A judicial probe was one of the pre-conditions of O Panneerselvam, the present deputy chief minister, for the merger of factions led by him and chief minister K Palaniswami.
After Palaniswami announced on August 17 that an inquiry commission would be constituted, the two factions merged on August 21.