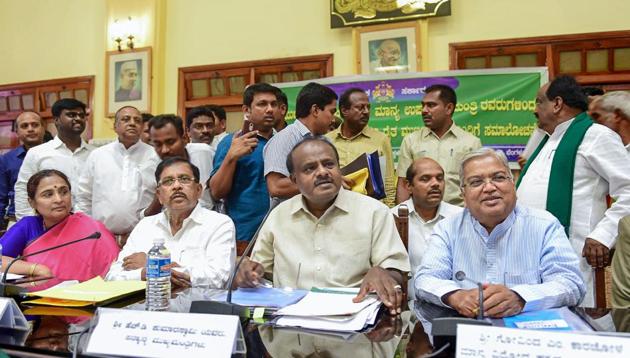 Why the Rs 53,000 crore farm loan waiver could end up as burden for Karnataka
The waiver of all farmer loans in Karnataka, if implemented in full, is expected to cost at least Rs 53,000 crore.
Hindustan Times, Bengaluru | By Venkatesha Babu
UPDATED ON JUN 02, 2018 10:06 AM IST
On Wednesday, Karnataka's new chief minister HD Kumaraswamy held a public consultation with farmer leaders and representatives in order to fulfil his party's manifesto promise of waiver of "all" crop loans taken by farmers. The waiver of all farmer loans if implemented in full, is expected to cost at least Rs 53,000 crore, according to an estimate by the Janata Dal (Secular) in its election manifesto.
During the election campaign, Kumaraswamy promised to sign the loan waiver "within 24 hours of assuming power". It has been a little over a week since he assumed office but Kumaraswamy is now pleading that he be given "at least 15 days to work out the full modalities of the loan waiver".
Meanwhile, there have been reports of 14 farmers committing suicide in the state over the last couple of days.
The delay in fulfilling the promise, in spite of it being a populist move, is an indication of the impact it will have on the state's finances.
Loan waiver for farmers is not a new political phenomenon. One of the largest such exercises was the United Progressive Alliance (UPA) government's announcement in 2008 of waiver of loans to all small and marginal farmers across the country, which cost around Rs 60,000 crore, though some other estimates put it at Rs 72,000 crore.
The comprehensiveness as well as perilousness of the Karnataka loan waiver scheme can be gauged by the fact that its loan waiver scheme as envisaged by Janata Dal (Secular), if implemented, will cost at the minimum of Rs 53,000 crore, as mentioned earlier.
The agriculture sector in the state has been in distress for decades now leading to thousands of farmers suicides.
D Rajshekar, professor of developmental economics at the Institute of Social and Economic Change, says, "The reason for agrarian distress is systemic and fundamental. Loan waiver is like applying band-aid for cancer. The farmers are better off being provided better support prices, cheaper access to quality seeds and fertilisers, more irrigation facilities, cold storage chains and infrastructure to efficiently and cheaply move or store their produce but none of it will attract government support and investment like the politically more visible loan waivers would do. Repeated waivers only makes it harder for the sector to attract fresh loans and also tests the integrity of the financial system."
The Siddaramaiah government, just before the recent assembly elections, had announced waiver of all loans up to Rs 50,000 taken by farmers from cooperative banks which cost the state Rs 8,165 crore. The JD(S) promise covers not just nationalised banks but also all loans taken from the formal financial sector.
Political analyst Sandeep Shastri points out, "The JD(S) never expected to be in a position of power when it promised to waive off all crop loans.
Its best expectation was that it would emerge as a junior partner in a coalition government without ever believing that it would have the chief ministerial chair and the obligation to fulfil its promise."
If implemented in full, the loan waiver would amount to 40% of the previous year's state budget. In 2016-17, Karnataka's total budget revenue was Rs 1,32,867 crore.
The outgoing Siddaramaiah budget had left a revenue surplus of ?136.5 crore — as Shastri points out the state has had a reputation of being fiscally prudent irrespective of the party in power. This hard-earned reputation built over decades might be in jeopardy.
"There are only three ways to fund this waiver. One to drastically cut allocations for things like social services, economic services and general expenditure which is almost impossible to do. The second would be to raise funds through fresh taxes or third will be to borrow heavily leaving the tab to be picked up by a future government," says Shastri.
The worry of some analysts is that all other developmental activities might come to a grinding halt due to lack of funding, including improving infrastructure in Bengaluru. Which is why the chief minister seems to be hedging his bets and has said that the consultation was aimed to ensure only "deserving" beneficiaries get the waiver, analysts say.
Shastri also suggests that the waiver may be carried out in phases over a number of years, while Professor Rajshekar of ISEC points to the Andhra Pradesh example of how the Telugu Desam Party (TDP) carried out loan waivers in phases.
Prakash Kammaradi, chief of Karnataka Agricultural Prices Commission, expectedly defends the government's move to waive all farmer loans.
"It is a political decision and a promise made in its manifesto. The waiver need not be at the cost of other essential services or development of urban areas in the city. I am sure the government will find a way," he said.
The Bharatiya Janata Party's (BJP) legislative party leader BS Yeddyurappa has threatened to launch an agitation if only conditional waiver is carried out and not the full one as promised in the JD(S) manifesto.
Kumaraswamy, who is expected to consult the Congress party and get the nod of its national president Rahul Gandhi before any announcement, criticised Yeddyurappa's absence at Wednesday's consultative process. The BJP had sent Govind Karjola as its representative instead.
Either way, the loan waiver, if carried out in full, is likely to become an albatross around the state's neck.
Close