'Terrorist on flight', snapchats Jet flyer from inside plane, detained
Hindustan Times, Kolkata |
Avijit Ghoshal and Faizan Haidar
Nov 26, 2018 10:50 PM IST
A social media post by a man, said to be in his early twenties, which coincided with the anniversary of the 26/11 terror attacks in Mumbai ten years ago, triggered panic.
A 21-year-old man travelling on a Mumbai-bound Jet Airways flight was deplaned and taken into custody at the Kolkata airport on Monday morning after he allegedly made a social media post from inside the aircraft saying he was a terrorist.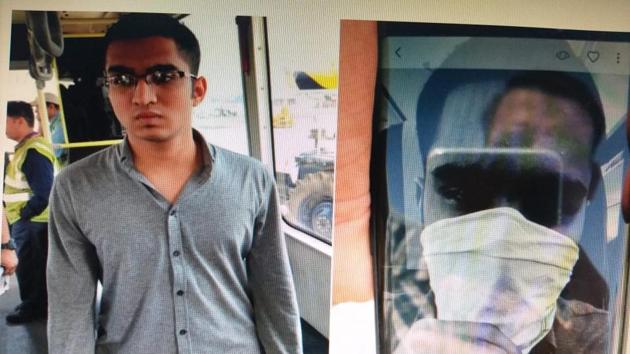 A co-passenger informed the captain of the flight that Yogen Poddar allegedly wrote on a social media app, saying he is a "terrorist on board" on a day the country is observing the tenth anniversary of the terror attacks in Mumbai.
"While he was on board he was chatting with his friend on the Snapchat app with a handkerchief on his face. He had written 'Terrorist on flight, I destroy women hearts,' which was noticed by one of the passengers on board namely Mr Benjamin Placket, who was seated one seat diagonally behind him," a Central Industrial Security Force source said.
"He immediately informed the same to the captain of the flight. The captain passed the message to Jet Airways duty manager and the passenger was detained by Jet Airways security," the source said.
The pilot took the plane back to the tarmac after the incident happened at 8:20am and Poddar was taken to the Netaji Subhas Chandra Bose International Airport police station for questioning. His baggage was also taken off the aircraft.
"After the crew was alerted by the co-passenger, Poddar refused to show his mobile phone to the air hostess. Then the CISF personnel found that he indeed made the post, where he took a selfie with his face covered and wrote those words. We are now checking his antecedents," a police officer at the airport said on the condition of anonymity.
Also read: Jet Airways passenger suffers permanent hearing loss after cabin lost pressure
Poddar, a resident of Beliaghata area of east Kolkata, told police that it was just a prank.
"He was indulging in a prank," his father Nirmal Poddar, who rushed to the airport police station, also said.
"The youth will be released since he did not make any call, or issue any threat to anybody," said a senior officer of Bidhannagar Police in the evening.
The flight 9W472 with 160 passengers and seven crew members took off after it was given a security clearance by the airport staff. It was delayed by over an hour.