Australia just not good enough, batting collapses hurt, laments Steve Smith
Updated on Oct 02, 2017 12:22 PM IST
Australia cricket team suffered a seven-wicket defeat versus India in the final ODI in Nagpur on Sunday. India wrapped up the five-match series 4-1 and became the No. 1 team too.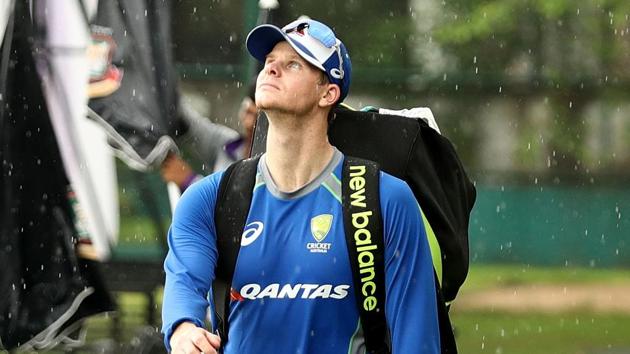 Australia cricket team captain Steve Smith lambasted his batsmen on Sunday, blaming the lack of consistency at the top of the order for the current struggles of the reigning world champions.
Australia were handed a seven-wicket defeat in the final ODI by Indian cricket team, who wrapped up the five-match series 4-1 on Sunday. (Scorecard | Highlights)
"We showed some glimpses throughout the series that we could play but we've been losing wickets in clumps very consistently and that's not good enough," Steve Smith told reporters after the series.
"The top four need to stand up and really take control. We did that in a couple of games, the last game in Bangalore to be particular. But we are not doing it consistently enough," Steve Smith told the post-match press conference. Australia won in the penultimate game in Bangalore, but struggled to compete against India in the other games.
"It's (batting collapse) been addressed several times. We are just not taking our words out in the middle and delivering with actions, unfortunately. We have glimpses of it, play well in periods and we then just get ourselves in trouble, probably from poor decision making."
Australia have seen a number of new faces in the past couple of years and a new playing XI in almost every other game. They had lost a Test in Bangladesh before drawing the series 1-1 ahead of their India tour.
Asked if the constant shuffling made it difficult for the players to understand their roles, Smith said: "They know their roles and the template of the way we want to play. We are just not doing it consistently enough. We talk about making big scores and setting it up for the guys to have an onslaught in the last 10-15 overs. When we do it well, we get the results we are after. We are just not doing it consistently enough to get the results we need and it's something we need to work on."
However, Steve Smith admitted it was a brilliant show from India to restrict runs in the middle overs and stop Australia from building on their brilliant start. Australia were 100 for one at one stage, only to lose wickets in a heap to be restricted to 242/9.
"Virat set some really good fields and stopped us from hitting and I don't think we adapted well enough," Smith said. "Today was probably a day when we could have used softer hands, played a bit square and hit the ball into the gaps instead of actually hitting the ball down the ground. We probably didn't adapt as well as we would have liked to."
Underlining that there can be several changes in the days to come, Smith added: "Some guys are back playing the domestic one-day competition at the moment, and yeah, there're some guys there that can put pressure on the guys that are here.
"The results haven't been good enough and we want our guys to perform consistently. We will have a good look at the one-day competition back home and hopefully a few guys can jump out of the pack and score big runs and bowl really well as well."