Bomb scare forces GoAir flight to make emergency landing at Nagpur
Hindustan Times |
, Mumbai
HT Correspondent
Jan 23, 2016 02:17 PM IST
A GoAir flight made an emergency landing on Saturday morning in Nagpur following a bomb scare.
A Mumbai-bound GoAir flight carrying more than 150 people from Bhubaneshwar made an emergency stopover an hour into the journey following an anonymous tip about a bomb on board the flight. However, no suspicious item was found after a security check.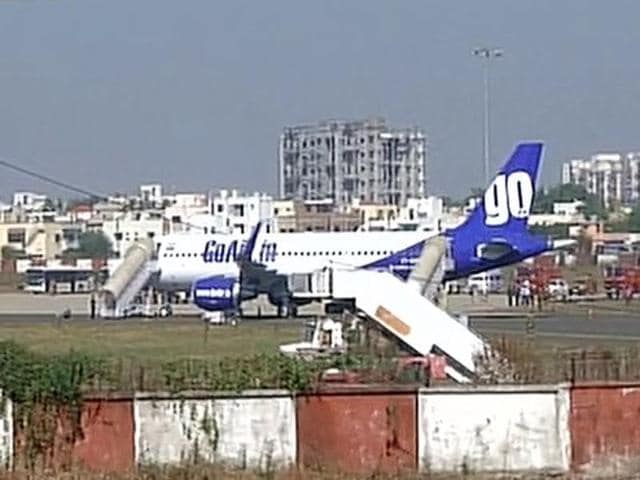 An airport manager at the Biju Patnaik airport in Bhubaneswar received an anonymous call warning of a bomb, forcing flight G8 243 to land in Nagpur. Following standard operating procedure, passengers were deplaned and the aircraft was taken to a remote parking bay for security checks. After clearance, passengers were then boarded again and the flight continued its journey.
A GoAir spokesperson confirmed the incident, saying the flight that took off from Bhubaneshwar at 8:20 am, landed at Nagpur at 9:29 am.
"After deplaning the 150 passengers, checks were conducted by the airport security and there was no bomb found onboard the aircraft. Post clearance from the authorities, the passengers are now being boarded and flight is scheduled to take off at 12 noon to Mumbai. The GoAir officials at Bhubaneshwar immediately informed the local and the police is investigating the matter," a GoAir statement read.
The caller reportedly mentioned the flight number and said, "Suitcase mein bomb hai." The call was made from a phone number registered in Odisha.
Investigators suspect the call was made by a mentally unstable person, believed to be one Sanjeev Mishra. The suspect had allegedly made two hoax calls over the past 18 hours, claiming there was a bomb at Mumbai's domestic terminal and another on board a fleet taxi.
There is hightened security across the nation ahead of Republic Day celebrations to be attended in Delhi by French President Francois Hollande as chief guest.
The National Investigation Agency on Friday arrested or detained over a dozen people, including the self-appointed India head of IS, during raids in Karnataka, UP, Andhra Pradesh and Maharashtra on Friday. In another development, the anti-terrorist squad of UP Police arrested two suspected IS operatives, one from Lucknow and another from Kushinagar while they were hunting for two others, all of whom are believed to be part of a terror outfit that was planning attacks on Republic Day celebrations and the Ardh Kumbh mela in Haridwar.