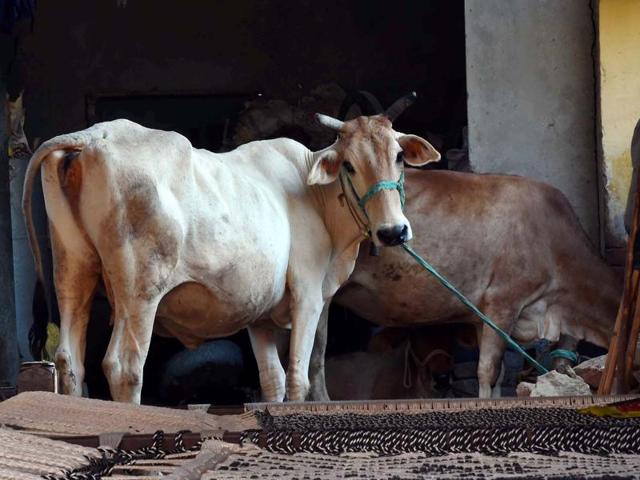 Cow smuggling along Bangladesh border down, collateral problems up
Cow smuggling has been on for decades, until the Narendra Modi government took it up as a priority to stamp out the march of Indian cattle — an estimated 1.7-1.8 million a year — to the neighbouring nation's slaughterhouses.
UPDATED ON OCT 26, 2015 06:32 PM IST
A 10-minute window after 10pm is all they need to escort a pair of cows across Ichamati river or dash through bare fields for about 1,000ft, tether the cattle to a tree in Bangladesh and return to India.
A single cow fetches them between Rs 200 and Rs 500, and the cash is delivered the next day.
But over the past seven-eight months, BSF flashlights and guns have become more active. Speedboats frequently patrol the Ichamati that meanders through this area separating Bangladesh that desperately needs Indian cattle for its supply of beef.
Cow smuggling has been on for decades, until the Narendra Modi government took it up as a priority to stamp out the march of Indian cattle — an estimated 1.7-1.8 million a year — to the neighbouring nation's slaughterhouses.
In early April, Union home minister Rajnath Singh visited the district town of Bongaon and told BSF personnel to stop the illegal trade.
Since then, the twin- engine BSF speedboats are overrunning country boats of rustlers. Locals are extremely afraid of these machines that often charge at them full-on in the river. "The propellers of these boats are so lethal that both cattle and those escorting them are cut to pieces if they get entangled," said a woman near her home along the Ichamati.
Collateral problems have emerged after the drop in cattle smuggling. The local administration is grappling with rising crimes such as snatchings, burglary and dacoity — some by people from across the border. Trafficking of women from Bangladesh has apparently gone up, too.
"The people are poor here … there are no big or medium industries or the service sector to employ the youth. The only large-scale activity, cattle smuggling, has also reduced to a trickle," a onetime smuggler said.
A councilor of Bongaon municipality, Dilip Majumdar, said there is no industry in the area and the rate of unemployment is very high. The crop, too, has taken a hit this year. "But still we can't support cattle smuggling," he asserted.
Villagers said leaders of all parties are in favour of the smuggling, but can't say it aloud.
The cow racket used to drive the local economy. Truckloads of cattle used to come from Bihar, Uttar Pradesh, Rajasthan and Delhi to the porous border in the south Bengal districts that share a 9,015-km border with Bangladesh, including numerous Sunderbans islands, of which only 366km are fenced.
"A cow involves about 20 handlers from its origin in an Indian state, say UP, to the slaughterhouse in Bangladesh. An animal that costs Rs 20,000 at its origin becomes Rs 45,000 to Rs 50,000 at the destination. Near stoppage of smuggling has deprived everyone of the income of Rs 25,000-Rs 30,000 an animal. The situation is more acute for the Bangladeshi handlers," said Ashok Biswas, a local Trinamool leader.
Farmers who cultivate land across the fence complain that Bangladeshis steal the produce from their fields. "When the cow business was on, none would touch the vegetables I left on the field," said Nishikanta Haldar pointing at a small plot across a high barbed wire fence.
Biswajit Mondal of Pratapnagar village depended heavily on cattle smuggling to run his family. "My son studies management in Mumbai and is in his final year. But with the drop in income, I have to now sell my house. I sold my wife's jewellery already. If I can't arrange Rs 30,000, my son can't complete his course."
The fence bears tell-tale points where barbed wires have vanished to make way for the cattle rustling.
Strange sights greet one as one crosses Kalanchi bridge and moves about half a km. The barbed wire fence suddenly vanishes for a few hundred metres, an obvious sign of smugglers uprooting it altogether.
Along the road that runs beside the border the familiar sight of people speaking to handlers on their cell phones and waiting for the cattle to arrive, have almost vanished. After sundown this area used to become active with only the cell phones glowing in the dark.
Once the cattle arrived, they would wait patiently for the nearby BSF guard to either doze off, or step aside to respond to the call of nature, before they began the 10-minute run.
Reactions on the drop in cow smuggling:
*KD Biswas, local BJP leader: "The state government has to take the initiative to provide employment to these people."
*Pallab Ghosh, CPI(M) district secretariat member – "Social and law and order problems have got magnified after the drop in smuggling."
*Surajit Biswas, local MLA – "The dependence of many locals on cattle smuggling has been a social reality. But we can't go on encouraging it. We are trying to encourage small industries in the area."
*Sandeep Salunke, IG, BSF – "Angrail is the most sensitive point. We have increased vigil. Double engine speed boats that can travel fast and generate a lot of waves are especially effective in deterring the locals from crossing the river."
*Senior police officer of North 24 Parganas – "We have started getting more reports of law and order problems. But it has not gone out of hand."
*Dilip Majumder, asst secretary, Bongaon Chamber of Commerce -- "We are afraid as crimes are rising after a drop in cow smuggling. However, we can't support the illegal activity."
Close