India is not Gujarat
Jun 20, 2013 10:15 PM IST
Narendra Modi will discover that there is a major difference between governing India from Delhi and Gujarat from Gandhinagar. This will tell him he is less influential to change than he thought he was. writes Aakar Patel.
The asset without which Narendra Modi must plot his move from Gujarat to Delhi is the Gujarati.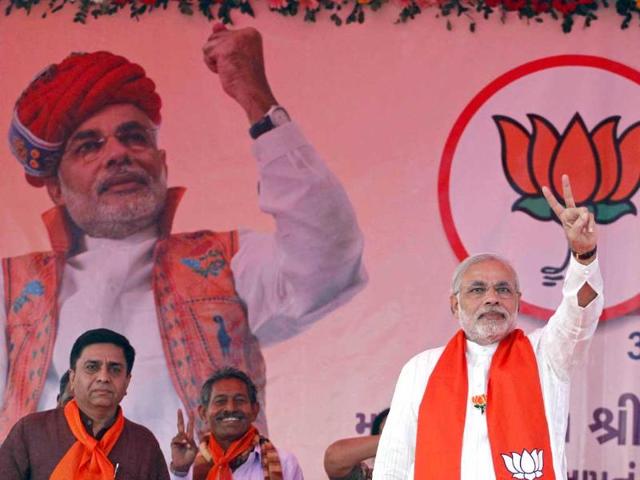 Gujarat is not only a slightly different South Asian region that speaks yet another language based on Sanskrit and eats yet another version of dal. It is absolutely unique.
There are zero Bengalis, Biharis, Marathis and Oriyas in the Forbes list of Indian billionaires but there are Gujaratis from four religions: Muslims (Azim Premji, Habil Khorakiwala), Parsis (Adi Godrej, Pallonji Mistry and Cyrus Poonawalla), Jains (Gautam Adani)and Hindus (the brothers Ambani and Ashwin Dani).
There are Gujarati billionaires from across Hindu castes: the warrior Lohana (Uday Kotak), the Baniya (Dilip Sanghvi, Sudhir Mehta) and the peasant (Pankaj Patel).
With such genius in its population, it is not surprising that Gujarat has led India's GDP growth in the last decade. Great governance from Modi and the policies of brilliance he has implemented have less to do with Gujarat's economic success than Gujarati culture.
And it's not just about a culture of making money. Three out of the four most important, most powerful Indians in 1947 — Gandhi, Jinnah and Patel — were Gujaratis. In an age when elections did not happen on the basis of language and caste, Gujarati leaders dominated India.
The ascent of these men happened not by accident but because their state's multi-religious mercantile communities have always produced a pragmatism that is the envy of other states.
In 1994, my hometown of Surat suffered an outbreak of bubonic plague. A medieval disease that hasn't been seen in Europe in centuries, it came to Surat because of our filth and lack of hygiene.
The people of Surat accepted their culpability and handed sweeping powers to their municipal commissioner, SR Rao. He began a campaign of demolishing illegal structures and bringing order to the streets.
Within months, Surat was now, incredibly, rated by INTACH India's second cleanest city after Chandigarh. I do not think this transformation would have been easily possible in another state, and I attribute this to the Gujarati culture.
Authoritarian rule, whether of the well-meaning bureaucrat like Rao, or the political demagogue, like Modi, is easily accepted in Gujarat if it is seen as beneficial.
Modi must leave this treasure behind on his big adventure, the conquest of India. The sort of quick response that the Gujarati population gives to even minor changes in policy and administration will be missing in Delhi.
Modi will discover, if he doesn't already suspect, that there is a key difference between governing India from Delhi and Gujarat from Gandhinagar.
And this difference will tell him he is less important, less influential to change than he thought he was. It will make him think wistfully of us Gujaratis and wish that the rest of India was like us.
There is someone else who will learn a lesson from the elevation of Modi. And that is the average Indian. I am referring to the middle-class, educated, urban person who is disturbed by what he sees around him when he compares his lot to that of someone in the West.
The corruption, the inefficiency of the state and the anarchy on the streets. All of this the Modi supporter, of whom we now have legions, attributes to a fault in government.
In this view, the problem with India is that it has the Congress leading it, a party that is inefficient, corrupt and weak. Let us not be under the illusion that this is either a small group of Indians which thinks this way or that it excludes educated people.
I had a chat one evening with a former managing director of Britannia who said that what India needed was five years of dictatorship.
The thinking is that the introduction of a firm and decisive leader, which is what Modi is, will lead to an end to all of our problems, which are immediate and easily solvable. The nation will quickly rise and become a Great Power in a few years.
Of course it will not, no matter who our leader is. Cultural problems are not solved by a strongman, no matter how strong, no matter how efficient.
This is the important lesson that both Modi and his backers will learn in the event that he comes to power in Delhi, with however large a majority.
There are limits to what the state can achieve. It is the population that defines nations, not the government. I would say, without wanting to put words in his mouth, that this is also the view of Rahul Gandhi.
His speeches which de-emphasise government, its power and its ability to transform India are indicative of his thinking which is mature and not overly romantic.
If what he says is thought of by most people as being boring and not muscular enough, it defines for us the numbers of those who admire Modi and those (very few) who do Rahul Gandhi.
I think it would actually be a good thing to have Modi in power in Delhi for a term or so, and with a large majority. He is as brilliant a politician, and as efficient a leader, as the BJP will ever produce.
His reign, and inevitable failure, will rid many of us of our illusions on what the problem of India is, and what the solution.
Aakar Patel is a former Gujarati newspaper editor and a columnist for Mint
(The views expressed by the author are personal)
Exciting news! Mint is now on WhatsApp Channels
Subscribe today by clicking the link and stay updated with the latest financial insights!
Click here!
Get
Latest India News
along with
Latest News
and
Top Headlines
from India and around the world